Testing candidates' skills is a time-consuming process. This is just a tiny fraction of all HR (hiring) activities. That's why finding a good skill assessment solution that will take over the grunt work from you through automation and AI and let you focus on candidates is imperative.
To help you, we have prepared a list of the ten best skill assessment software. Each platform we reviewed brings something interesting to the table, which means you are definitely going to find one that will help your company.
What is skill assessment software?
Skill assessment software is basically a system that allows people to minimize all the manual work for the hiring process in different scales and areas. Skill assessment platforms allow hiring managers to conduct skills testing and candidate prescreening at scale. They may help you create custom tests that will match your company's needs and also have tools for rating candidates, sending feedback and asynchronous interviewing, all of which save you an enormous amount of time.
Criteria for selecting the best skill assessment software
To set a benchmark and help you up, here's a list of criteria we used when selecting skill assessment tools:
Features – having multiple ways to screen candidates is important, but features such as AI and recruiting automation make the most significant time savings.
User interface – any solution you pick should be straightforward to use, both for the hiring team and candidates, making an intuitive UI a must-have.
User feedback – current customers will uncover what the tool is really like, so we included user feedback as one of our criteria.
Price – unfortunately, many of the tools hide their pricing structures, but it's always nice to know in advance how much you will have to pay.
10 best tools for skill assessment
VireUp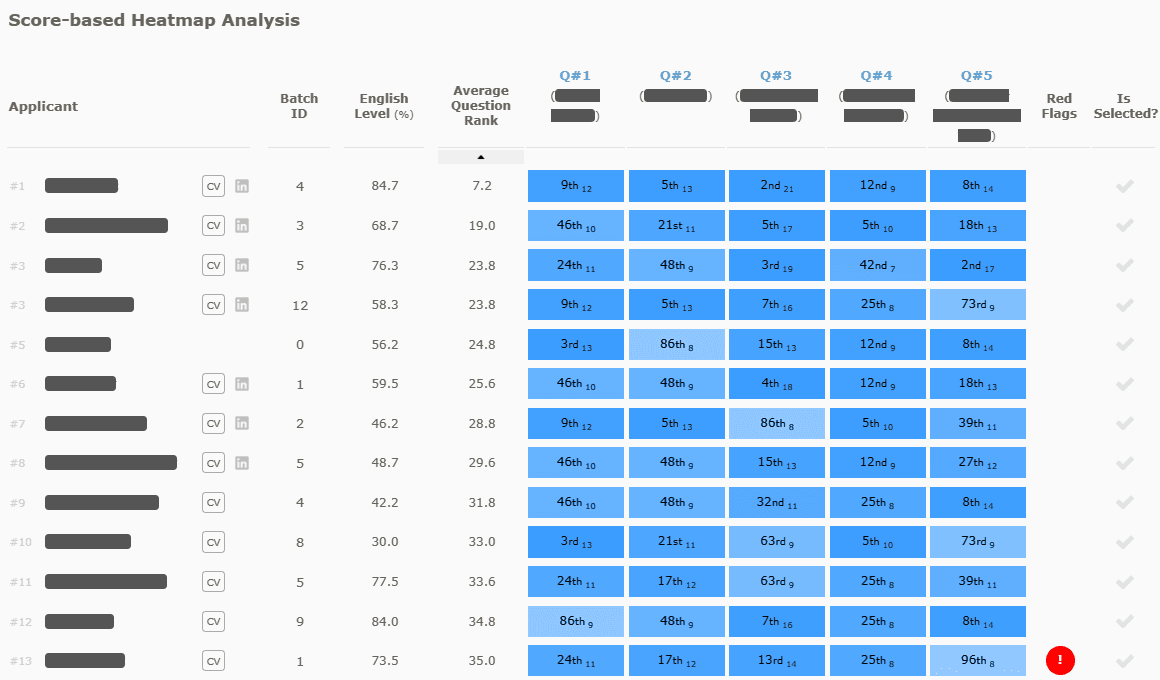 Brief overview of the tool
VireUp is an intelligent one-way video interviewing platform. It allows you to test candidates asynchronously by asking them pre-planned questions and letting them record their answers at their convenience within the platform. Also, its state-of-the-art AI suggestions will significantly speed up the review process, so you won't have to do everything manually.
The downside of VireUp is that it is still a relatively new tool, so there aren't many reviews online, but some big brands already love VireUp.

Features of the tool
Asynchronous interviewing – you don't have to waste time scheduling and interviewing hundreds or even thousands of candidates one by one. Instead, prepare your own custom questions and let the candidates answer the questions whenever they please.
NLP-based recommendations – VireUp has a unique AI that will give you live suggestions as you go through the interviews, helping you not miss vital details and saving time.
Inclusive skills assessments – because all the applicants will go through the same questions and record themselves, you will decide based solely on their skills, ensuring the entire hiring process is bias-free. The tool also has a proprietary Spoken English Measurement tool.
Transparent feedback – once everything is complete, you can automatically share the results with candidates, making the entire process transparent and hugely improving your employer brand.
Pros
Intelligent one-way video interviewing features
AI and NLP features speed up the process
Transparent and bias-free
Cons
It is a new name on the market, so not many reviews
Pricing options
VireUp pricing is available upon request, but you can book a free demo anytime.
Customer feedback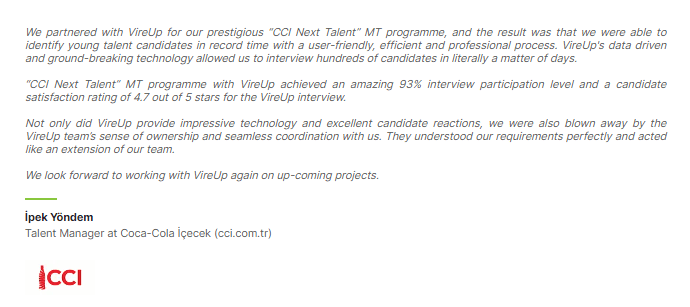 Mercer Mettl Assessments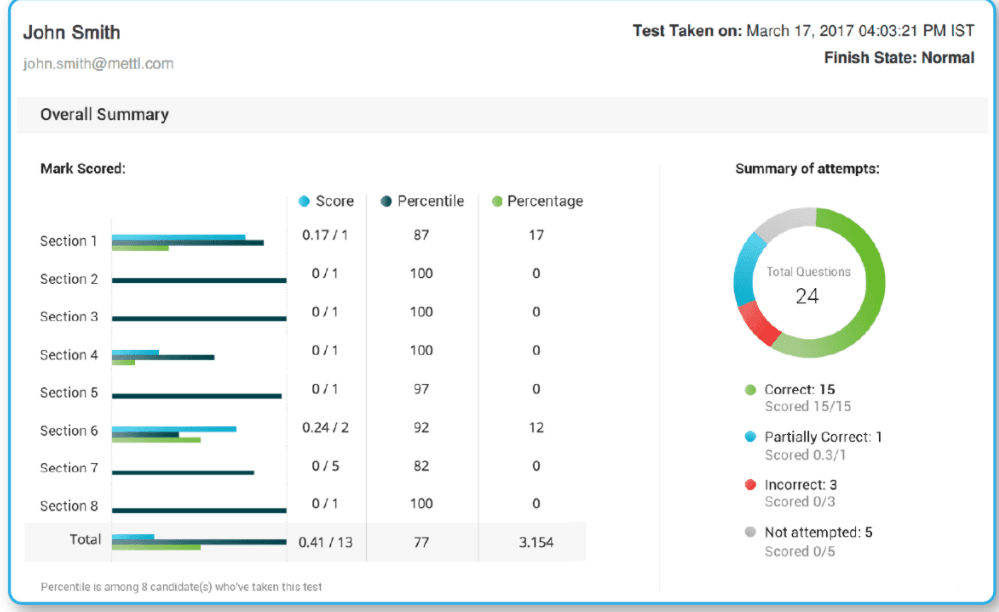 Image source: SoftwareAdvice
Brief overview of the tool
Mercer Mettl Assessments is an enterprise-level HR suite that will allow your team to assess an applicant's competencies correctly. It has an extensive feature set you can adapt to any situation, but it is best suited for the biggest companies who need all that in their hiring. Plus, this is primarily a testing tool, so it lacks AI-powered video interviewing capabilities that other options on the list have.
Features of the tool
Personality tests
Behavioral tendencies
Cognitive ability testing
Domain skill testing
Coding skills and tests
Communication skills testing
Remote proctoring
ATS invites
ATS integrations – Freshteam, Greenhouse, Lever, Keka and more
Pros:
Many test types
A good option for technical skills, personal traits and cognitive testing
Online tests proctoring
Cons
Limited video interviewing capabilities
May be overwhelming for companies who don't need its extensive feature set
Pricing options
Mercer Mettl Assessments has custom pricing, which depends on your needs and company size.
Customer feedback
Besides occasional customer service and complexity complaints, Mercer Mettl Assessments users are generally satisfied with the tool:
G2: 4.4/5 (499 ratings)
SoftwareAdvice: 4.2/5 (16 ratings)
Capterra: 2.0/5 (3 ratings)
TestGorilla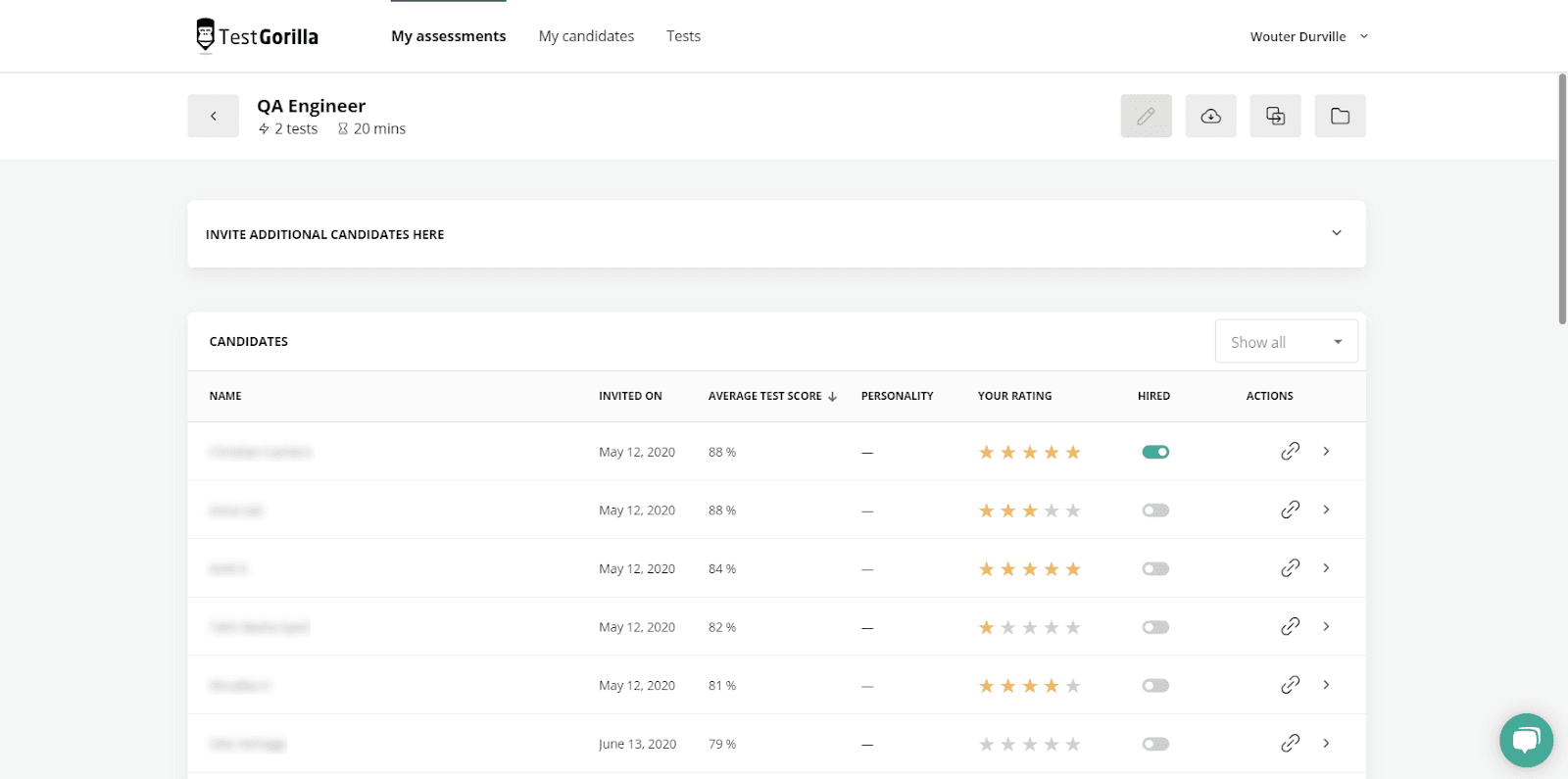 Image source: G2
Brief overview of the tool
TestGorilla offers customizable pre-employment tests and skill assessments with templates for scalable testing. It's best for testing developers, as you can assess their technical and coding skills and see how well they perform in different programming languages.
However, TestGorilla's video interviewing capabilities are only available in the most expensive plans. Therefore, it's best for conducting actual tests rather than asynchronous video interviews.
Features of the tool
Assessment builder with customizable templates
A rich library of technical and skills tests
Send invitations from ATS or by email
Advanced analytics and candidate insights with comparison and grading
Cheating detection software
Integrations – BambooHR, Breezy, Greenhouse, Lever + Zapier + API
Pros
An extensive database
Many integrations
Good analytics
Cons
Limited video interview capabilities (only available in the most expensive plans)
Pricing options
Free: 10 free tests, 5 account users for testing
Starter: starts at $85 per month for up to 15 employees – no test limits, all templates, custom tests, detailed analyses, and qualifying questions
Pro: starts at $130 per month for up to 15 employees – custom video questions, custom coding tests, your logo, ATS integrations, and premium-level support
Customer feedback
TestGorilla customers like it for its extensive test library, with the main complaints regarding annual pricing and certain glitches:
Capterra: 4.2/5 (230 ratings)
G2: 4.5/5 (971 ratings)
Trustpilot: 4.0/5 (427 ratings)
HackerRank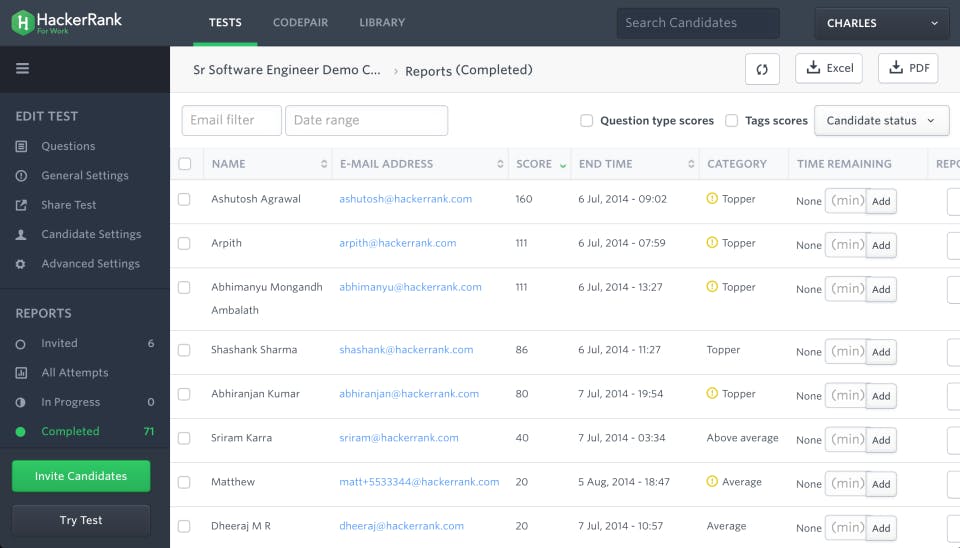 Image source: Capterra
Brief overview of the tool
As its name implies, HackerRank primarily focuses on assessing coding skills and developers' technical knowledge. It has many features designed specifically for this industry, making it a good option for anyone looking to hire a developer.
However, if you need a more general hiring tool, HackerRank is not for you, as many of its features are developer-specific.
Features of the tool
Screen candidates via coding tests
Standardized skills testing
Plagiarism monitoring
Valid results
Coding interviews
Certified online assessments
Compliant outcomes
Fairness in evaluation
Integrations – Avature, Breezy, DarwinBox, Freshteam, JazzHR, Lever, LinkedIn Talent Hub and more
Pros
Excellent developer testing features
Certified tests
Standardized and bias-free hiring process
Cons
Only suitable for hiring developers
Pricing options
HackerRank has three pricing options:
Starter: – $100 per month – 1 user, up to 10 attempts per month, 1000+ skills assessment questions
Pro: $250 per month – 5 users, up to 25 attempts per month, 2000+skills assessment questions
Custom: custom price, features per your request
Customer feedback
Apart from complaining about tests needing too many edits, users who want to hire developers generally like HackerRank:
Capterra: 4.5/5 (49 ratings)
G2: 4.5/5 (350 ratings)
TrustRadius: 7.7/10 (69 ratings)
Woven Interview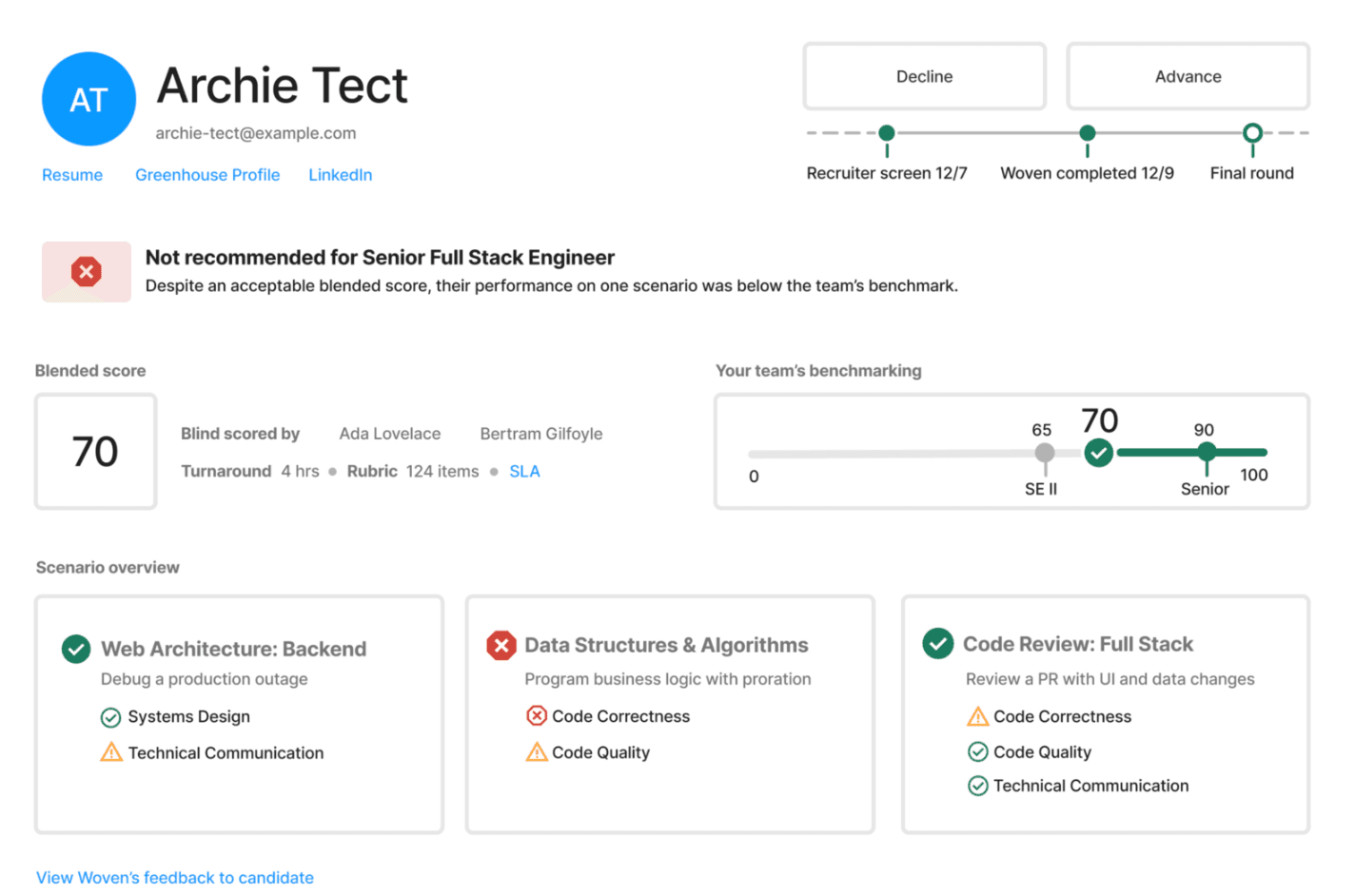 Image source: G2
Brief overview of the tool
Woven is a technical assessment and interviewing platform. Its unique feature set allows you to test qualified candidates in job-specific tests and real work situations they would find themselves in, letting you see how they perform first-hand.
But, similarly to HackerRank, Woven works best for the IT industry and developer testing. Therefore, if you need a video interviewing tool for more traditional roles, you won't find Woven feature set very useful.
Features of the tool
Role-based custom assessments
Quick test builder
Senior-level scenario templates for code reviews, system design and architecture debugging
Scored by Woven engineers
Detailed analysis
Proctoring
Same-day results
ATS integrations + custom API available upon request
Pros
Great for IT roles
Manually rated by engineers
Results the same day
Cons
Only suitable for hiring developers
Pricing options
Here are Woven's three plans:
Starter: $249 per month + $4000 per hire – async proctoring, unlimited assessments for up to two roles, Slack integration, unlimited seats
Pro: $499 per month + $4000 per hire – Starter + ATS, unlimited roles
Annual: $3500 per hire – everything in Pro
Customer feedback
Customers like Woven for finding developers, and they mostly complain about the initial setup, which can be a bit harder than it should be:
Capterra: 4.9/5 (16 ratings)
G2: 4.8/5 (424 ratings)
SoftwareAdvice: 4.5/5 (4 ratings)
Glider AI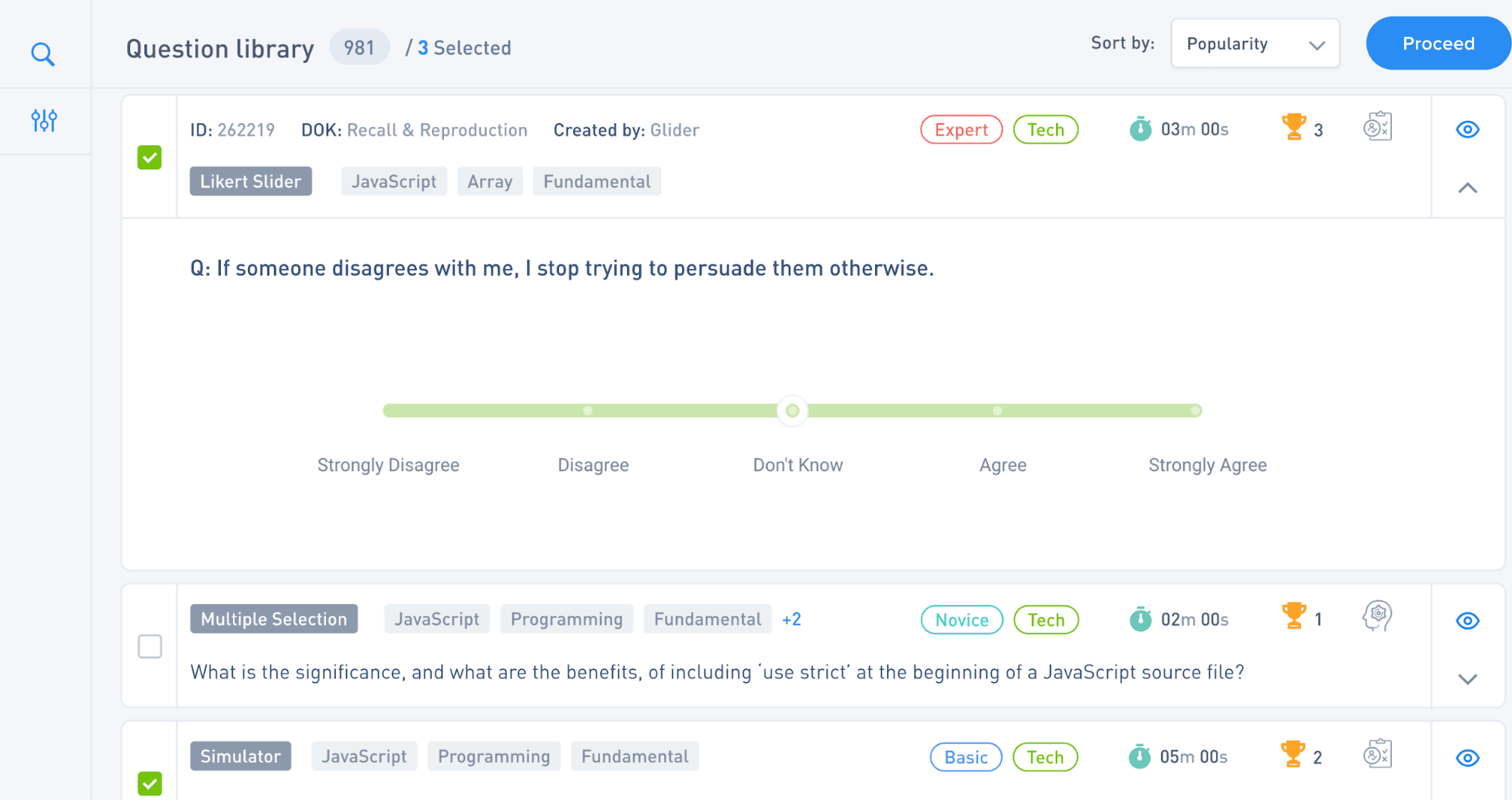 Image source: Capterra
Brief overview of the tool
Glider AI is a capable skill competencies testing software platform powered by AI. It lets you quickly scan through job applicants' profiles and conduct virtual interviews, all of which your talent acquisition team members would have to do manually.
While it does have a decent AI feature set, some users report unreliable scoring results. That means you will need to double-check Glider's suggestions, increasing the time you spend on interviewing.
Features of the tool
Automated screening
Text recruiting
Social media, email, WhatsApp, texts
Automated scheduling
ATS (Workday, VUE, PeopleFluent etc.), VMS, HRMS, CRM integrations
AI phone screening
Technical skills tests
Non-technical skills tests
Behavioral tests
1-way video interviews
Virtual interviews
Coding tests
Pros:
Several modes for testing candidates
Plenty of integrations
Cons
AI scoring can be unreliable
Pricing options
Glider AI pricing is available upon request.
Customer feedback
Glider AI has a very good user rating and a few complaints regarding its somewhat unreliable scoring:
SoftwareAdvice: 4.1/5 (21 ratings)
G2: 4.9/5 (264 ratings)
TrustRadius: 7/10 (1 rating)
HireVue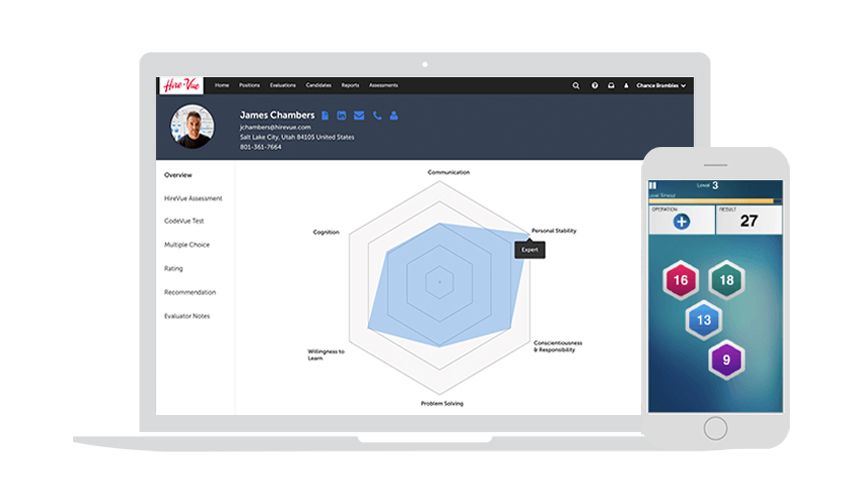 Image source: G2
Brief overview of the tool
HireVue cuts repetitive tasks and helps you be more productive by implementing automation. It provides good analytics for each candidate and allows you to conduct on-demand video interviews efficiently. However, it can take a lot of work to set up, which is one of the main complaints users have about this tool.
Features of the tool
Build custom interviews
On-demand interviewing
Real-time evaluation
AI and automation routing
Automated scheduling
SMS and WhatsApp notifications
Integrations – SAP, Workday, Oracle, SmartRecruiters, PageUp, Greenhouse and more
Pros
Automation takes over repetitive tasks
Good analytics
Multiple ways to notify candidates
Cons
Very expensive
Occasional performance issues
Pricing options
HireVue is free for candidates, while companies need to pay:
Corporate: $35,000 for 2500-5000 employees – live video interviewing, on-demand interviewing, white label
Enterprise: pricing on demand for 5000+ employees – everything in Corporate plus automatic chatbot and scheduling, text to apply, role-based talent assessments and more themes
Customer feedback
Users who can afford HireVue like its automation but complain about steep pricing and sometimes poor performance and technical difficulties:
GetApp: 4.5/5 (46 ratings)
G2: 4.1/5 (230 ratings)
TrustRadius: 7.5/10 (239 ratings)
See also: Top 10 HireVue competitors
Ducknowl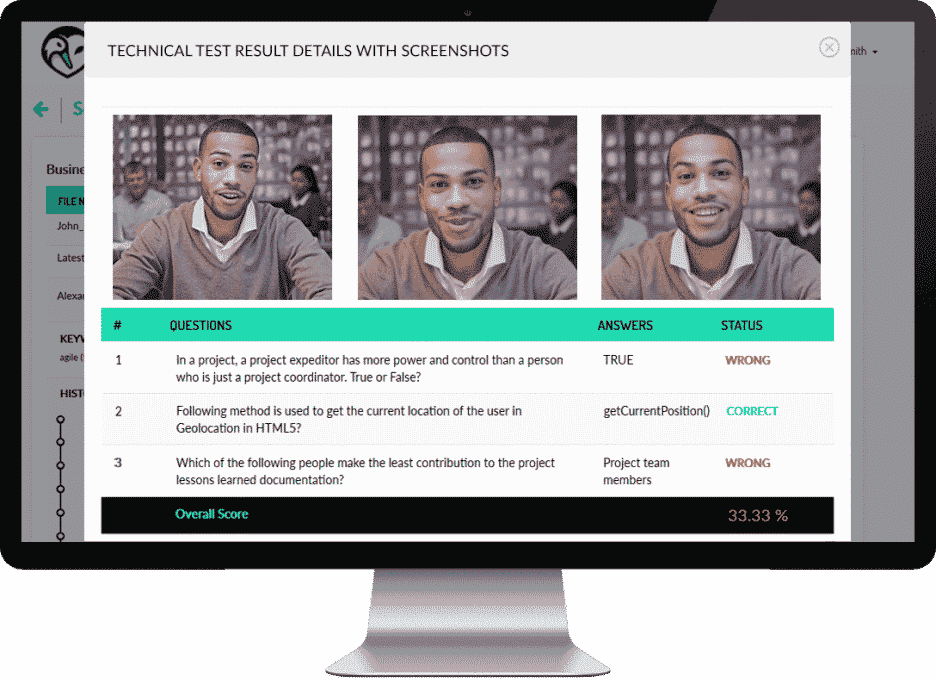 Image source: G2
Brief overview of the tool
Ducknowl HR software will aid you in conducting video interviews and assessing the skill levels of prospects. It helps you with multiple parts of the hiring process, from posting video job descriptions all the way to the actual hiring.
While the concept is good, Ducknowl delivery falls behind, as users complain about user interface difficulties and some minor but annoying bugs in video playback and interview customization.
Features of the tool
Automated resume parsing
Live video interviewing with AI insights
Skill assessment tests – software engineering, general aptitude tests, computer literacy, business intelligence, management, sales and marketing and more
Audio screening
Video texting
Video job descriptions
Integrations: Greenhouse, LinkedIn, Zoho, SmartRecruiter, Dice
Pros:
Some unique features such as video job descriptions and texting, audio screening
Many test options
AI-powered live and pre-recorded video interviews
Cons
Occasional performance glitches
Not the best user interface
Pricing options
Ducknowl pricing is not displayed but is available upon contacting their sales team.
Customer feedback
Apart from some interface and performance complaints, Ducknowl users like its AI features:
Capterra: 4.9/5 (28 ratings)
G2: 4.8/5 (9 ratings)
SoftwareAdvice: 4.9/5 (28 ratings)
eSkill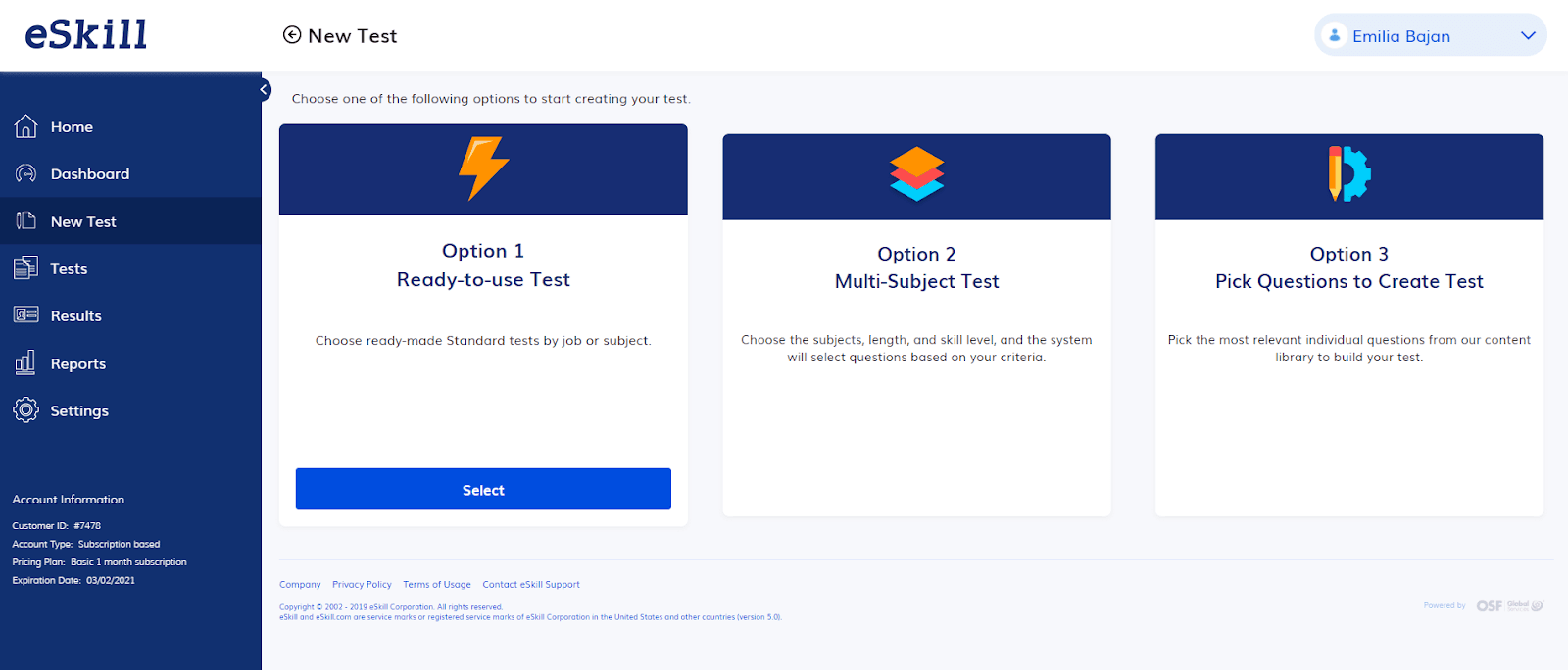 Image source:G2
Brief overview of the tool
eSkill assessment platform hosts various testing and interviewing tools for sourcing, interviewing and hiring at scale. It has a very flexible set of features and is suitable for many scenarios, but it lacks user-friendliness and has performance issues.
Features of the tool
Skills testing and pre-employment assessments – cognitive aptitude, behavioral tests, specific skills tests
An extensive library of tests for different industries
Video response questions and team rating
Employee training options
White label design, you can include your brand elements
Integration with Workday, iCIMS, Jobvite and other popular ATS and LMS systems
Pros:
Skill library includes assessments for different industries
Many test types for assessing skills, cognitive capabilities and personal traits
You can use it for employee training, too
Cons
Limited video interviewing capabilities
Pricing options
eSkill has five pricing plans. The Small Business plan is $100 per month when billed annually, and the other four are available upon request.
Customer feedback
Overall, eSkill has above-average user scores, with the main drawbacks being the user interface design and performance drops:
Capterra: 4.5/5 (170 ratings)
G2: 4.5/5 (328 ratings)
SoftwareAdvice: 4.5/5 (170 ratings)
iMocha
Image source: G2
Brief overview of the tool
iMocha's extensive library of tests and skills assessments helps businesses find the right talent. It also has a decent set of interviewing and even staff training tools, which is incredibly important for keeping employees long-term and boosting internal mobility.
While it doesn't lack options, iMocha lacks polish, as users complain that many tests have errors you need to fix manually and that the automatic scoring sometimes shows incorrect results.
Features of the tool
Resume parsing
Many types of tests and assessments
Ongoing staff training
Detailed reports and analytics
Live and pre-recorded interviewing
Integrates with other HR tools, as well as learning platforms such as Udemy, Coursera, SimpleLearn and more
Pros
An excellent test library
Automatic skill assessments
Integrates with course platforms for ongoing employee training
Cons
While it has many features and tests, it lacks polish, and you will need to correct mistakes manually
Pricing options
iMocha has two plans, Professional (for three recruiters and ten interviewers) and Enterprise (unlimited), but the pricing for both is only available upon request.
Customer feedback
Customers like iMocha's library but tend to complain about the automatic scoring system and errors in tests:
GetApp: 4.5/5 (30 ratings)
G2: 4.4/5 (236 ratings)
Capterra: 4.5/5 (30 ratings)
Skill assessment software: Comparison table
| Tool name | Overview | Pros | Cons | Average user rating |
| --- | --- | --- | --- | --- |
| VireUp | An AI-powered one-way interviewing powerbox | AI and NLP capabilities Bias-free and transparent Easy-to-use | A new name on the market | No user ratings yet, but used by big-name brands such as Metro, Coca-Cola, Domino's, Pladis, Turkish Airlines, etc. |
| Mercer Mettl Assessments | Enterprise HR suite | A wide variety of tests You can use it for assessing technical, cognitive and personal skills Proctoring options | Lacking advanced video interviewing features | 3.53/5 |
| TestGorilla | A testing platform with a large database | Excellent library of tests Doesn't lack integrations Detailed candidate analytics | Video interviewing only in the most expensive plans | 4.23/5 |
| HackerRank | A good platform for testing developers | A good amount of tests for developers Anti-cheating functions Certified tests | Not for general hiring outside the IT world | 4.28/5 |
| Woven | A skills assessment platform for IT positions | Easy-to-use test builder Human scoring Real job scenarios | Only for developers | 4.73/5 |
| Glider AI | A versatile testing tool with AI capabilities | Several automation modes A good amount of integrations Various testing modes | Unreliable AI scoring | 4.16/5 |
| HireVue | Interviewing platform with several AI-powered modes | Custom interview builder On-demand and live interviews Automated scheduling | Very expensive | 4.11/5 |
| Ducknowl | Video interviewing and skill assessment platform | Video job descriptions and texting A good amount of tests Both live and pre-recorded video interviews | Performance and UI glitches | 4.83/5 |
| eSkill | A versatile testing and development platform | Multiple test types Employee training options Industry-specific testing | Lacking video interviewing options | 4.5/5 |
| iMocha | A testing suite with an extensive assessment database | Great library Automatic assessments Many integrations | Tests contain mistakes | 4.43/5 |
Conclusion
Assessing candidates' skills efficiently is a fundamental part of successful hiring, and the ten platforms we listed will help you do just that.
While every platform has its strengths, with its AI-powered one-way video interviewing, VireUp will enhance your decision-making while simultaneously saving you time.
Schedule a free VireUp demo now, and see why some of the biggest brands use our tool as a central point of their hiring activities.
FAQ
What is a skill assessment tool?
Skill assessment tools use automation to help you test an unlimited number of candidates who apply to work at your company, saving you enormous time. Our article lists the ten best skill assessment platforms and explains the pros and cons of each.
How do you create a skill assessment test?
The best way to create a skill assessment test is to use a specialized tool designed for building and conducting tests. Our article lists ten skill assessment tools with various capabilities, all of which are excellent for testing candidates.
How do you run a skills assessment?
While you can run skill tests manually and live, the best way is by using specialized skills assessment software and options such as one-way video interviewing. That way, you only need to create the test once while the applicants take it and respond to questions at their convenience, saving you time.
What are the 3 competency assessment tools?
Our article lists not only three but ten competency assessment tools and explains their features, pros and cons in detail:
VireUp
Mercer Mettl Assessments
TestGorilla
HackerRank
Woven
Glider AI
HireVue
Ducknowl
eSkill
iMocha