MyInterview's extensive feature set helps HR teams speed up processes and take time off their busy work schedules with automated and live video interviewing. However, the platform has some drawbacks, such as:
Lack of polish – while feature-rich, MyInterview fails to deliver a crisp experience, as users complain about performance hiccups.
No AI-powered advanced analytics – while MyInterview allows you to rate candidates with stars and leave comments for other teammates, you still need to do all this manually, as MyInterview doesn't give automatic or behaviour-based recommendations and explanations.
Mediocre customer support – another common complaint is that MyInterview support staff isn't always responsive, which can be problematic if you or the candidates run into issues.
That's why we put together a list of the top six MyInterview alternatives that will help you streamline your recruitment process from start to finish. The alternatives on the list have pros and cons, so we encourage you to look into them in detail to find out the most suitable one for your setup to eliminate unnecessary tasks and focus on the best candidates instead.
6 best MyInterview alternatives: Detailed overview
VireUp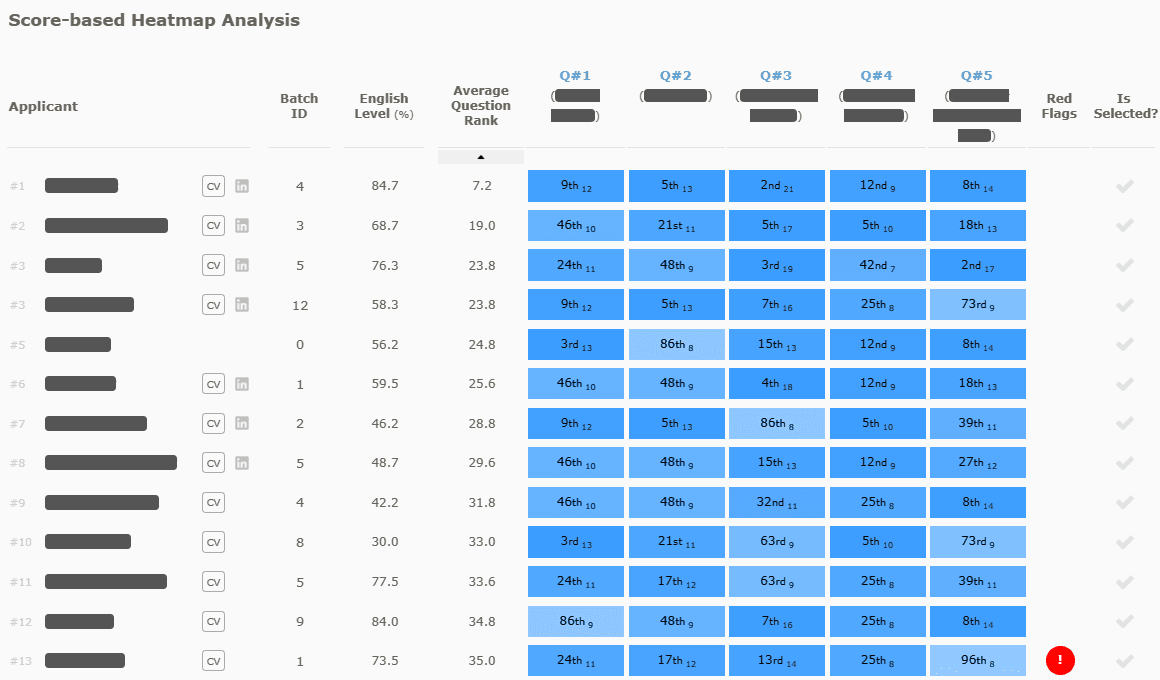 Brief overview of the tool
As an AI-powered video interviewing platform, VireUp cuts the recruitment cycle time by 40% and helps your team focus on candidates. Its AI algorithm is designed to boost your decision-making through evidence-based interview analysis. That means you will save time and minimize hiring mistakes.
VireUp's hiring system allows you to evaluate all relevant candidates against the criteria you defined for the position, ensuring bias-free hiring. Plus, VireUp helps you send coaching-level feedback to candidates, saving you even more time while providing them with valuable insights. That will leave a remarkable impression even among candidates you haven't selected for the position, improving the company's reputation.
Features of the tool
One-way video interviewing at scale
Easy-to-use dashboard
Interview question recommendations so you don't have to do everything from scratch
Bias-free and inclusive hiring process
Explainable AI that brings never-before-seen transparency
Advanced analytics with detailed candidate answer breakdown
Detailed and transparent sentence-level candidate feedback
Pros
AI-powered hiring process makes analyzing for key factors super easy
Automated feedback management
Ensures bias-free and transparent hiring through custom-made behavioral and technical questions
Cons
A newcomer on the market, but with some big-name brand testimonials
Pricing options
You can contact the VireUp team at any time and get a quote.
Customer reviews and ratings
VireUp is still new, but it is already getting attention, and you can find it in the toolbox of HR teams even in the largest companies such as
Coca Cola
Domino's
Turkish Airlines
Metro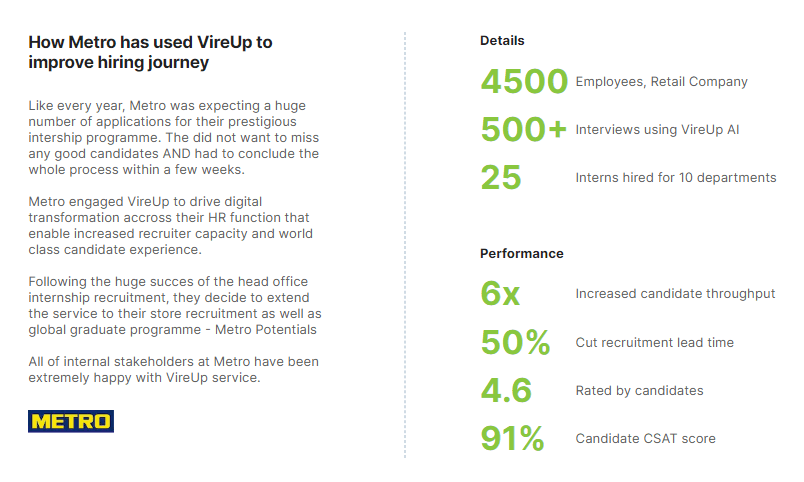 HireVue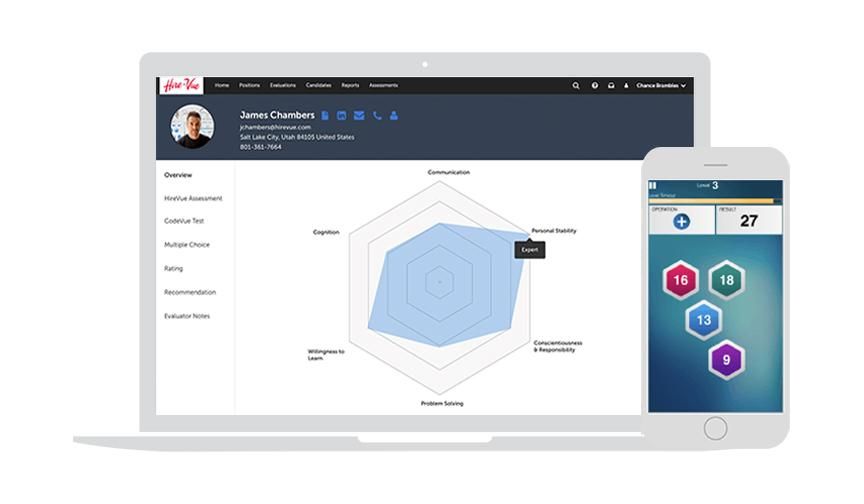 Image source: G2
Brief overview
HireVue is a video interviewing platform for faster hiring. This MyInterview alternative has a solid feature set that enables you to conduct video interviews (both live and on-demand) and provides options for assessing qualified candidates' skills. But, it will take some time to get used to the platform, as the interface and its performance aren't always the best.
Features
Interview builder
On-demand and live interviewing
Test psychological and technical aspects of candidates through interviews and game-based or technical assessments
Automated scheduling
SMS and WhatsApp candidate notifications
Integrations: Workday, PageUp, SmartRecruiter, Greenhouse and more
Pros
Several assessment options
Interview builder
Good integration list
Cons
Expensive
Steep learning curve
Pricing options
HireVue is a suitable option only for large businesses, which you can see from its plans:
Corporate: $35,000 for 2500-5000 employees – live video interviewing, on-demand interviewing, adding your branding elements
Enterprise: Pricing on demand for 5000+ employees – Corporate plan + apply via text messages, automated scheduling, role-based talent assessments, premium themes
Customer reviews and ratings
The biggest user complaints are that HireVue is very expensive and occasionally suffers from technical and performance glitches:
GetApp: 4.5/5 (46 ratings)
G2: 4.1/5 (231 ratings)
TrustRadius: 7.5/10 ****(239 ratings)
Read more: HireVue competitors
iMocha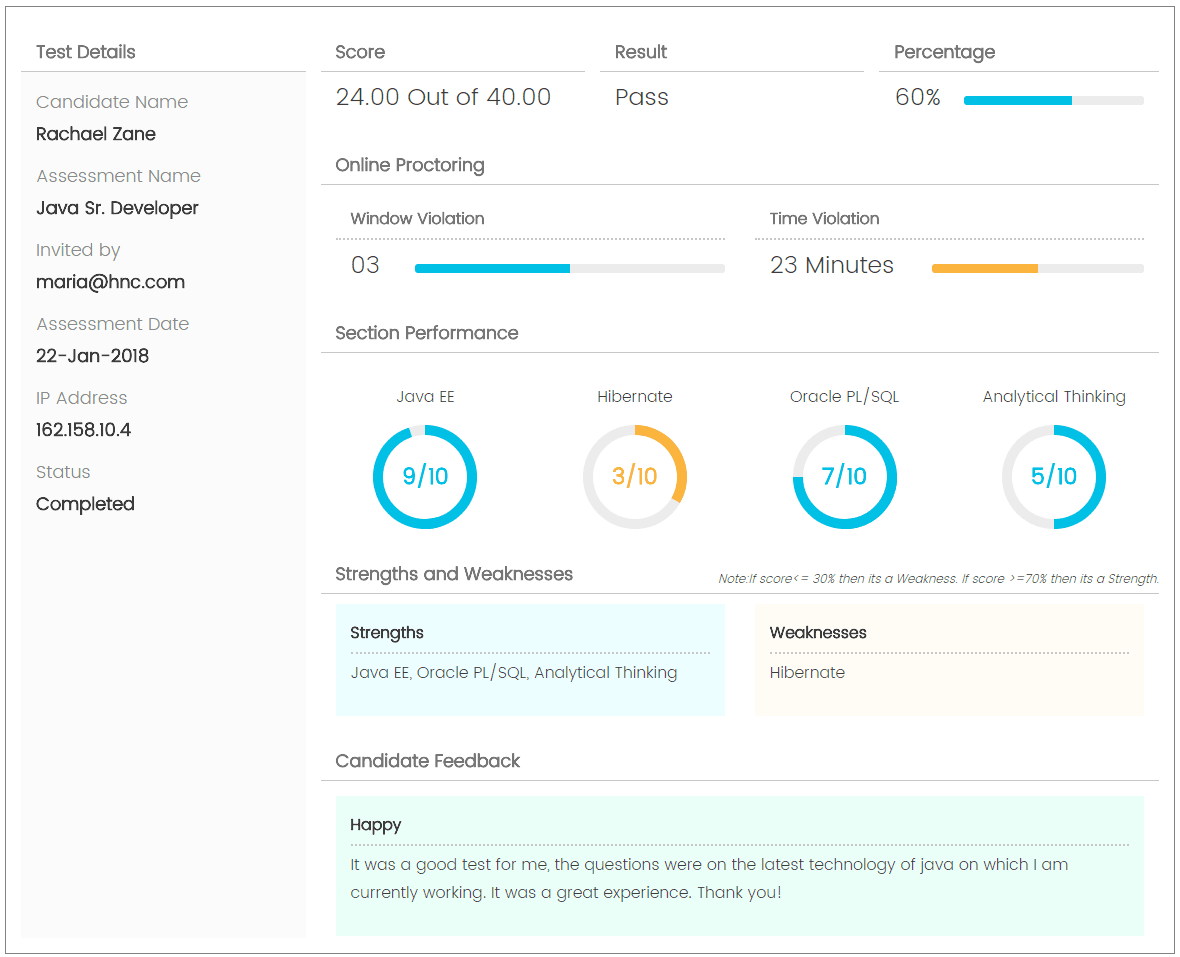 Image source: G2
Brief overview
iMocha's primary function is candidate testing, and its extensive test library helps you do just that. You will find many test types and assessment modes that will allow you to screen candidates in different ways – from assessing their technical knowledge to personal traits and competencies. The downside of this skill assessment tool is its lack of polish – while there are many tests, you will need to spend time getting through them, as users report frequent errors.
Features
Plenty of tests and skill assessments
Smart proctoring
Good reporting and analytics
Live and on-demand video interviews
Skill gap analysis
Integrations: Greenhouse, Ceipal, BambooHR, Workday, SAP, Zapier, Coursera, Udemy, Simplilearn and more
Pros
Extensive test library
Smart proctoring and automatic assessments
Many integrations
Cons
Tests tend to have errors, which means you will need to waste time double-checking everything
Pricing options
iMocha has two plans, but it doesn't display pricing, and the pricing is only available upon request:
Professional: 3 recruiters, 10 interviewers, 1200 candidate assessments, 300 interviews
Enterprise: Unlimited
Customer reviews and ratings
The most prominent feature iMocha customers like is the test library, which also causes most complaints due to frequent errors:
GetApp: 4.5/5 (30 ratings)
G2: 4.4/5 (238 ratings)
Capterra: 4.5/5 (30 ratings)
Read more: iMocha alternatives
Spark Hire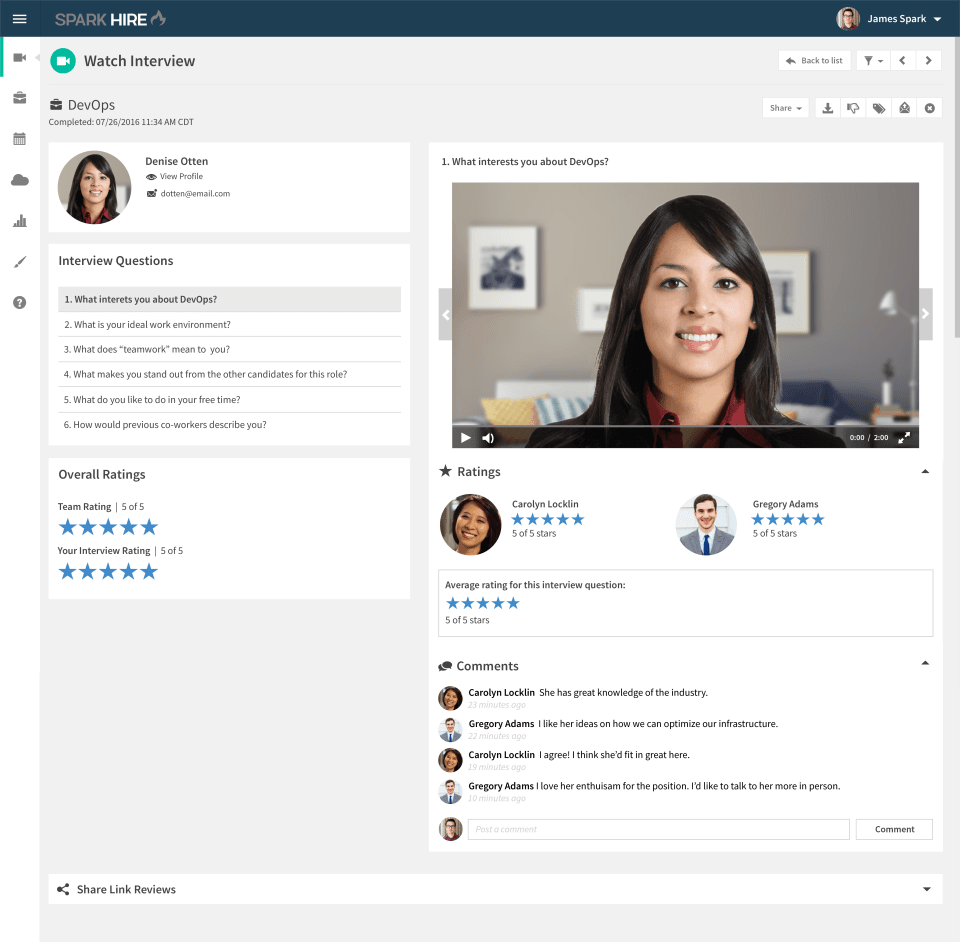 Image source: SoftwareAdvice
Brief overview
Spark Hire is a one-way video interviewing platform with solid recruitment automation and candidate rating features. It allows HR teams to collaborate on candidate screening and make decisions based on candidate skills and competencies. While it does quite a good job when it comes to executing asynchronous interviews, Spark Hire lacks AI and NLP features that would save you a lot of time while analyzing candidates' answers.
Features
Asynchronous video interview software
Limited thinking time, the number of takes, answer length
Collaborate with teammates and stakeholders, rate and comment on candidate interviews
Automated interview scheduling
Customized interviews with your brand elements
Integrations: BambooHR, Ceipal, Greenhouse, JazzHR, SmartRecruiters, Google, iCloud, Outlook and more
Pros
Good asynchronous interviewing features
Rating and commenting with your entire team
Extensive integration list
Cons
Lacks AI features that will let you screen and shortlist candidates automatically, meaning you will need to go through everything manually
Pricing options
Spark Hire has transparent pricing, which is always nice to see:
Lite: $149 per month for 1 job and 3 users
Pro: $299 per month for 5 jobs and 5 users
Growth: $499 per month for 10 jobs and 6+ users
Enterprise: Upon request, custom functions
Customer reviews and ratings
Spark Hire has a positive rating among users, with the main complaint being the lack of live interview options:
GetApp: 4.7/5 (106 ratings)
G2: 4.8/5 (418 ratings)
Capterra: 4.7/5 (106 ratings)
Hireflix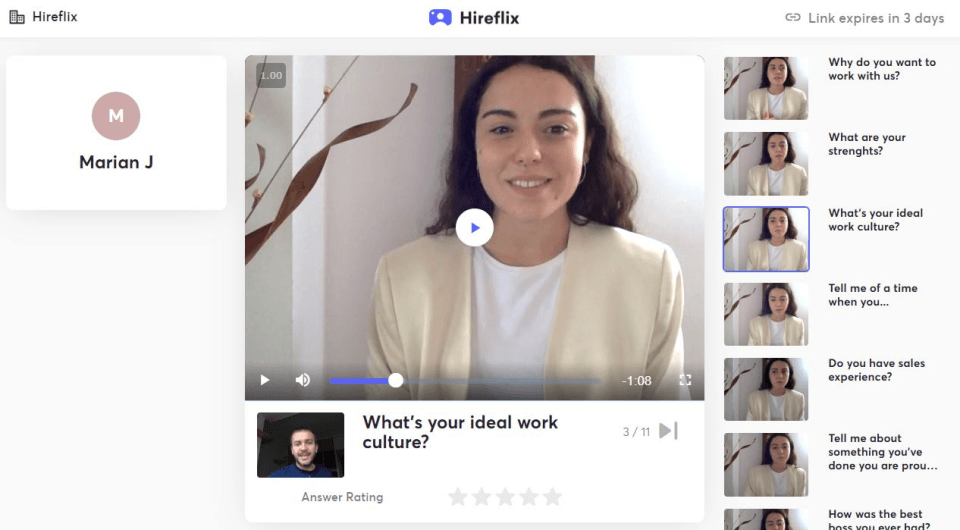 Image source: Capterra
Brief overview
Hireflix is a simple-to-use, one-way interviewing platform with excellent automation features, such as automatic scheduling and mass candidate invitations. While it is simple and works nicely, Hireflix lacks features some other MyInterview alternatives have that would speed up the process even further, such as AI suggestions and automatically sending detailed feedback to job seekers after the video interview.
Features
Automated and mass scheduling
Easy interview sharing with the entire hiring team
Simple interview rating and commenting
Connect with other apps via API and webhooks
Integrations: Zapier, Workable, Greenhouse, SmartRecruiters, Zoho, Lever, BambooHR and more
Pros
Straightforward to use
Simple but effective team collaboration and candidate rating features
API, webhooks, many integrations
Cons
Lacking advanced AI and automated feedback features that would speed up the process even further and make it even more transparent
Pricing options
Hireflix has three options:
Small: $150 per month – for companies with less than 50 employees
Medium: $300 per month – for companies with 50-250 employees
Custom: Available upon request
Customer reviews and ratings
Hireflix customers tend to complain about occasional performance glitches but like it for its simplicity and clean features:
G2: 5.0/5 (273 ratings)
GetApp: 5.0/5 (219 ratings)
Capterra: 5.0/5 (219 ratings)
VidCruiter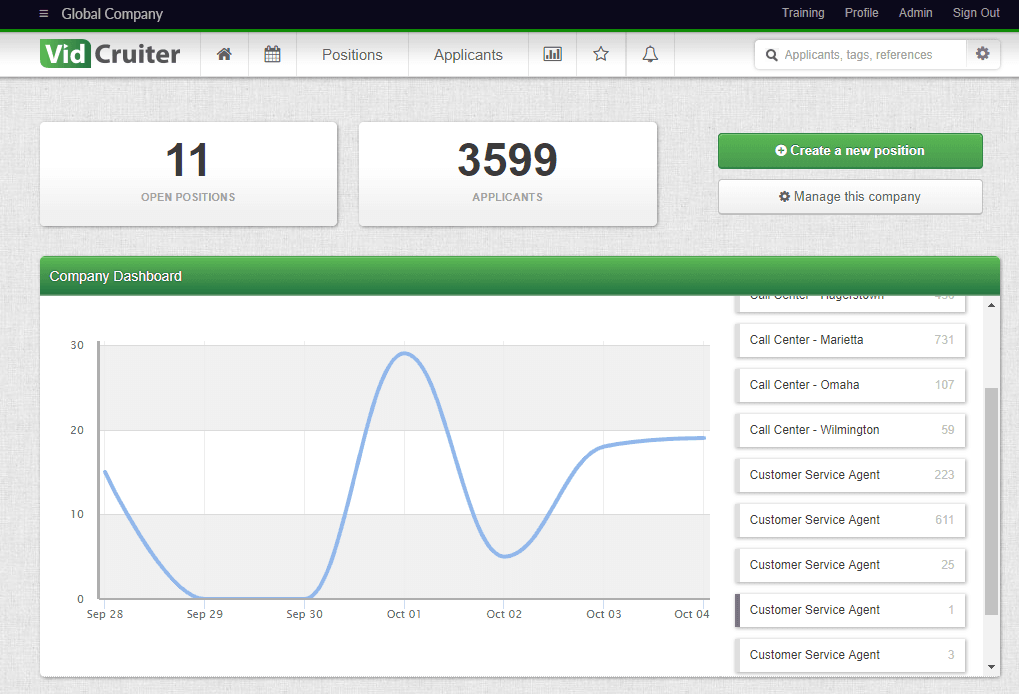 Image source: G2
Brief overview
VidCruiter is a skills testing and video interviewing platform designed to improve the efficiency of your hiring managers and eliminate redundant tasks through the use of AI. It has an extensive feature set that can help your staff in various parts of the recruiting process – pre-screening, scheduling, skills testing, video interviewing, all the way to automated referencing. However, it will take time to get used to VidCruiter, as its interface and user-friendliness aren't the best.
Features
Various candidate assessment options – skills, cognitive abilities, competencies
Automated candidate scoring saves time
Automatic scheduling
Pre-recorded and live video interviews
Reference checking with fraud prevention
Integrations: Greenhouse, SmartRecruiters, PageUP, Workday and more
Pros
Several candidate assessment options
Suitable both for asynchronous and live interviewing
Smart referencing features
Cons
It will take some time to get used to the interface
Pricing options
Unfortunately, VidRecruiter doesn't display pricing information publicly.
Customer reviews and ratings
VidRecruiter has a solid feature set that customers tend to like, while most of the complaints arise from its interface design and complexity:
G2: 4.8/5 (220 ratings)
GetApp: 4.6/5 (117 ratings)
Capterra: 4.6/5 (117 ratings)
MyInterview alternatives: Comparison table
| Tool name | In a nutshell | Pros | Cons | Price |
| --- | --- | --- | --- | --- |
| MyInterview | Video interviewing with several options for candidate screening | Both live and asynchronous interviews Solid automation features | Performance glitches and customer support complaints | Free demo available, pricing upon request |
| VireUp | AI-powered, bias-free and transparent interviewing | Objective candidate screening AI and NLP features speed up the analysis Bias-free and transparent | Not many reviews are available | Free demo available, pricing upon request |
| HireVue | Good candidate assessment options | Good interview builder Many integrations AI and automation features | Very expensive | Starts at $35k |
| iMocha | Candidate testing platform with a great test library | Rich test library Speeds up the candidate screening process Highly customizable | Tests have errors | Free trial available, pricing upon request |
| Spark Hire | One-way video interview platform with good automation options | Excellent one-way interview features Many integrations | Lacks AI screening features | Starts at $119 per month (billed annually) |
| Hireflix | A simple-to-use platform with a solid feature set | Nice team collaboration options API and webhooks integrations Mass invites | Lacks automation and AI features | Starts at $75 per month (billed annually) |
| VidCruiter | Capable skills testing and video interviewing software | Several candidate assessment options Automated candidate scoring Reference checking | Complex | Upon request |
MyInterview alternatives: Selection criteria
Here's what we looked for when comparing MyInterview alternatives:
Features – MyInterview certainly doesn't lack features, which is why each of the alternatives on the list has a lot to offer, too. What we especially looked for were AI and automation features that help you remove redundancies and improve your decision-making.
Ease-of-use – having many features is excellent, but things need to remain simple to use, so we paid close attention to user-friendliness.
Performance – similar to the point above, having many features is worthless if the platform slows you down due to poor performance.
Integrations – each software you add to your workflow should work with other tools you already use, making integrations very important.
Pricing – you can't neglect prices, but not many tools display their pricing schemes openly.
User reviews – reading the opinions of current users will tell you a lot about the tool, which is why we included this essential criteria.
Conclusion
As you can see, the video interviewing software market has much to offer, and MyInterview has fierce competition.
Of all the MyInterview alternatives we compared, VireUp's bias-free one-way interviewing process, combined with its AI features that save you time while screening for quality candidates and provide detailed and transparent candidate feedback, make it an excellent choice for modern HR environments.
Book a free VireUp demo today and see why some of the biggest companies trust our tool as their go-to hiring platform.