iMocha is a capable candidate assessment and hiring platform that helps HR teams pick suitable candidates by offering a test library full of skill and personality tests. Although powerful, users report some significant drawbacks:
Mistakes in auto-marking – while it has a decent automation and AI feature set, automatic test marking tends to make mistakes, forcing you to double-check answers manually. This can be problematic as it can seem to candidates as biased and untransparent.
Tests aren't polished – even though it has an extensive library of tests, some have grammatical errors and poor wording, which can make your company look unprofessional.
Not the best UI – it can be challenging to get used to iMocha.
To help, we have compiled a list of top iMocha alternatives to speed up your sourcing and candidate assessments. We have also explained the selection criteria so you can understand our choices better and use the same benchmark for picking the right platform for your business needs.
Top 10 iMocha alternatives
VireUp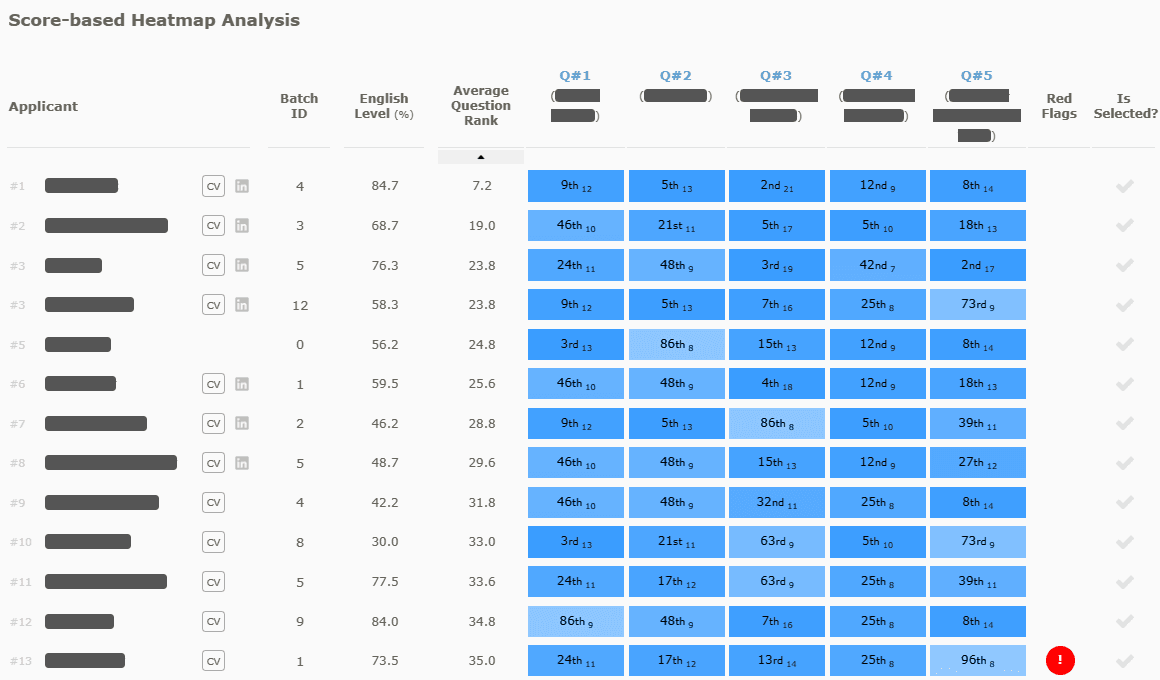 Brief overview of the tool
VireUp is an intelligent candidate sourcing platform and video interviewing software that uses automation and AI to speed through one-way video interviews and save you an enormous amount of time you would spend manually interviewing candidates. Considering the number of candidate application rates is rising each year, those time savings will add up quickly to a significant productivity boost for your HR team.
VireUp's innovative algorithm is designed to be bias-free, which is incredibly important for your company's reputation. Plus, each candidate will get detailed feedback explaining the decision, making the entire process super transparent and reducing candidate dissatisfaction by up to 80%.
Features of the tool
Video interviewing at scale – AI-powered automated video interviews are VireUp's key feature. You can choose to upload your own questions or use VireUp's question suggestions based on the competencies you require, so you don't need to do everything manually, saving you time. And, of course, the real time saver is that the platform can process hundreds or even thousands of interviews within days of the application deadline.
Live suggestions – natural language processing and AI will give you real-time suggestions as you go through the interviews, explaining the reasoning behind recommendations, which will minimize errors. It can even assess a candidate's level of spoken English.
Detailed analytics – not only does VireUp give the recruiters complete assessments, but it also ensures transparency by automatically offering the candidate detailed feedback for each question explaining the reasoning behind the decision.
Inclusivity – VireUp will test each candidate the same way, presenting them with the questions you customized based on VireUp's suggestions or created specifically for the position they are applying for. That means everyone will have an equal chance, as you will compare them against objective data, making the process bias-free.
Pros
AI-powered asynchronous interviews – VireUp cuts pre-employment costs by 45% with its advanced one-way interview technology.
No biases – compare thousands of candidates against the same competency-based questions.
40% faster recruitment cycle – when they generate reports, recruiters will see live suggestions and explanations behind the AI reasoning, freeing them from the need to watch interviews.
Transparency – after the recruitment process is completed, candidates will automatically get feedback explaining the decision, resulting in an 80% reduced candidate dissatisfaction.
Cons
Test templates – compared to iMocha, VireUp lacks an extensive database of custom-made tests, but it does allow you to frame your questions however you want.
Lack of reviews – you won't find as many customer reviews online, as VireUp is still a newer tool.
Pricing options
VireUp pricing is available upon request, but you can schedule a free demo anytime.
Customer reviews and ratings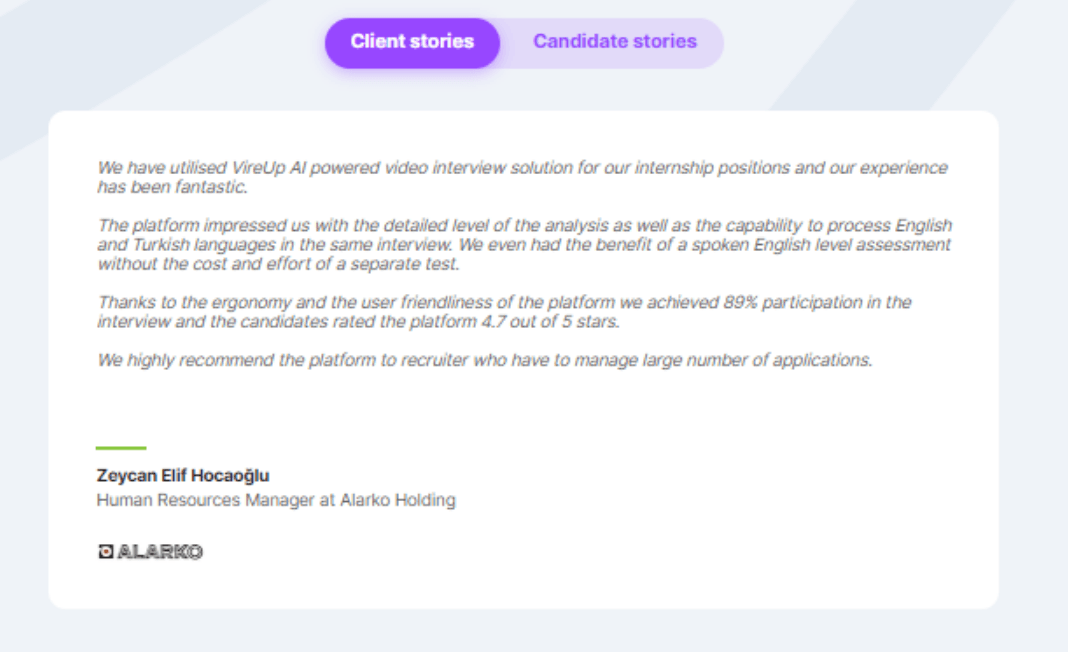 VireUp is a new name on the market, but some major brands already use this tool in their recruitment, including:
Metro
Domino's
Coca-Cola
Alarko
Pladis
Turkish Airlines
TestGorilla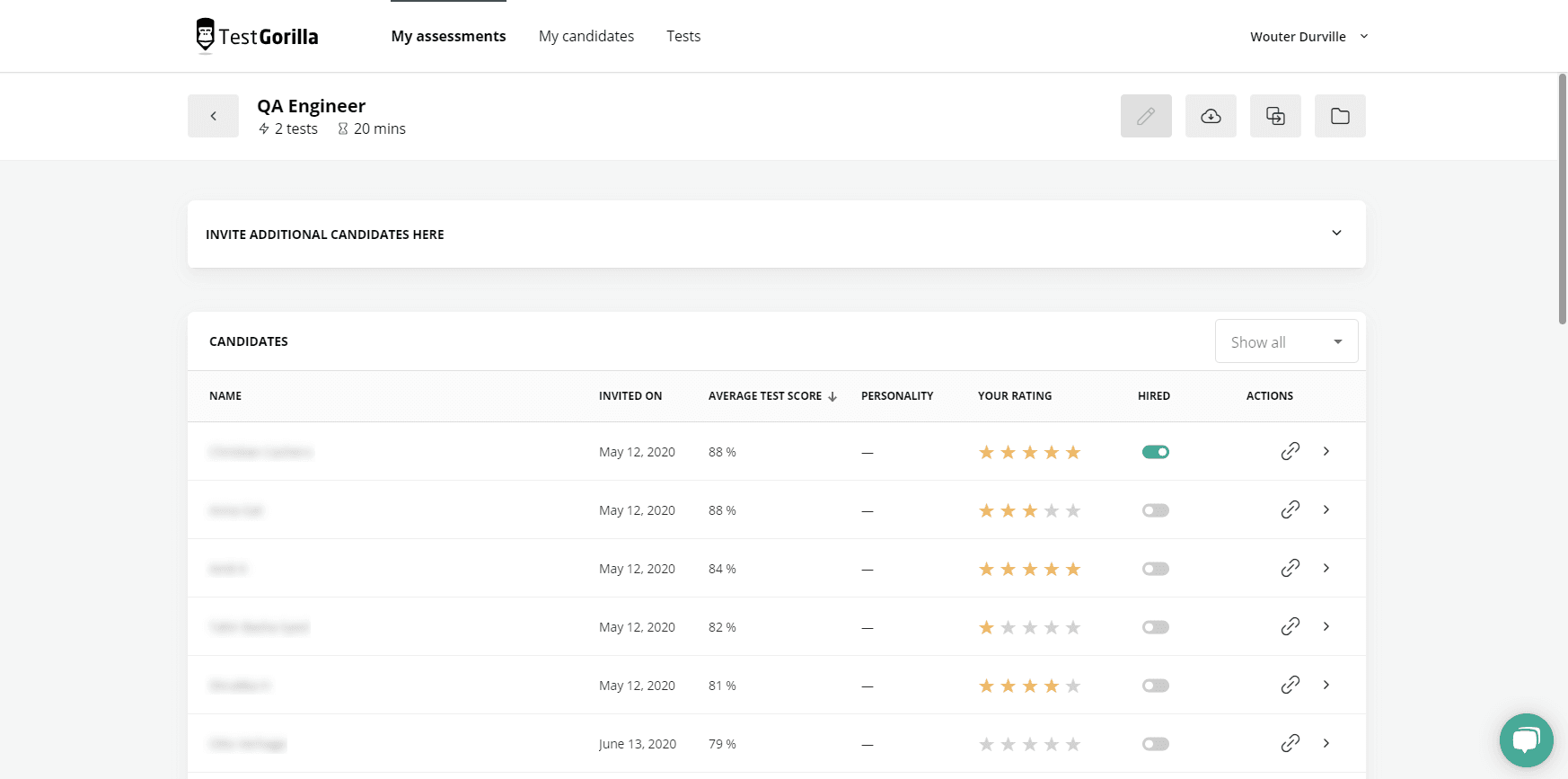 Image source: G2
Brief overview of the tool
Similarly to iMocha, TestGorilla is primarily a testing platform, as its name implies. You can use its customizable templates to design pre-employment tests and skill-based assessments and test candidates at scale. It also has some features that will help you test developers, as it has its own tests for various languages and roles.
One major downside of TestGorilla is that the one-way video interviewing feature is only available in the most expensive plan. That means you should primarily use this platform for conducting the actual tests, and it will show its best light when testing developers – if you mostly do video interviewing, some other platforms are a better option.
Features of the tool
An easy-to-use assessment builder
A rich library of technical assessments for many job-related tasks
Templates & custom questions
ATS/email invitations
Good analytics
Side-to-side candidate comparison and grading
Cheating prevention
ATS integrations (BambooHR, Breezy, Workable, Zoho Recruit)
Pros
An extensive library of test templates
Great for testing developers
Solid analytics and comparison features
Cons
Lacks automatic candidate feedback features other tools have
One-way video interviewing only in the most expensive plan
Pricing options
TestGorilla has a transparent pricing scheme and a free plan, which is always nice to see. But, you must sign for at least one year in advance:
Free: 10 free tests, 5 account users for testing
Starter: starts at $85 per month for up to 15 employees – unlimited tests, 358 templates, custom assessments, detailed reports and qualifying questions
Pro: starts at $130 per month for up to 15 employees – custom video questions, custom coding challenges, white label, ATS integrations, premium support
Customer reviews and ratings
Overall, customers like TestGorilla, with the main complaints being due to the lack of flexibility with the annual pricing:
Capterra: 4.2/5
G2: 4.5/5
Trustpilot: 4.0/5
eSkill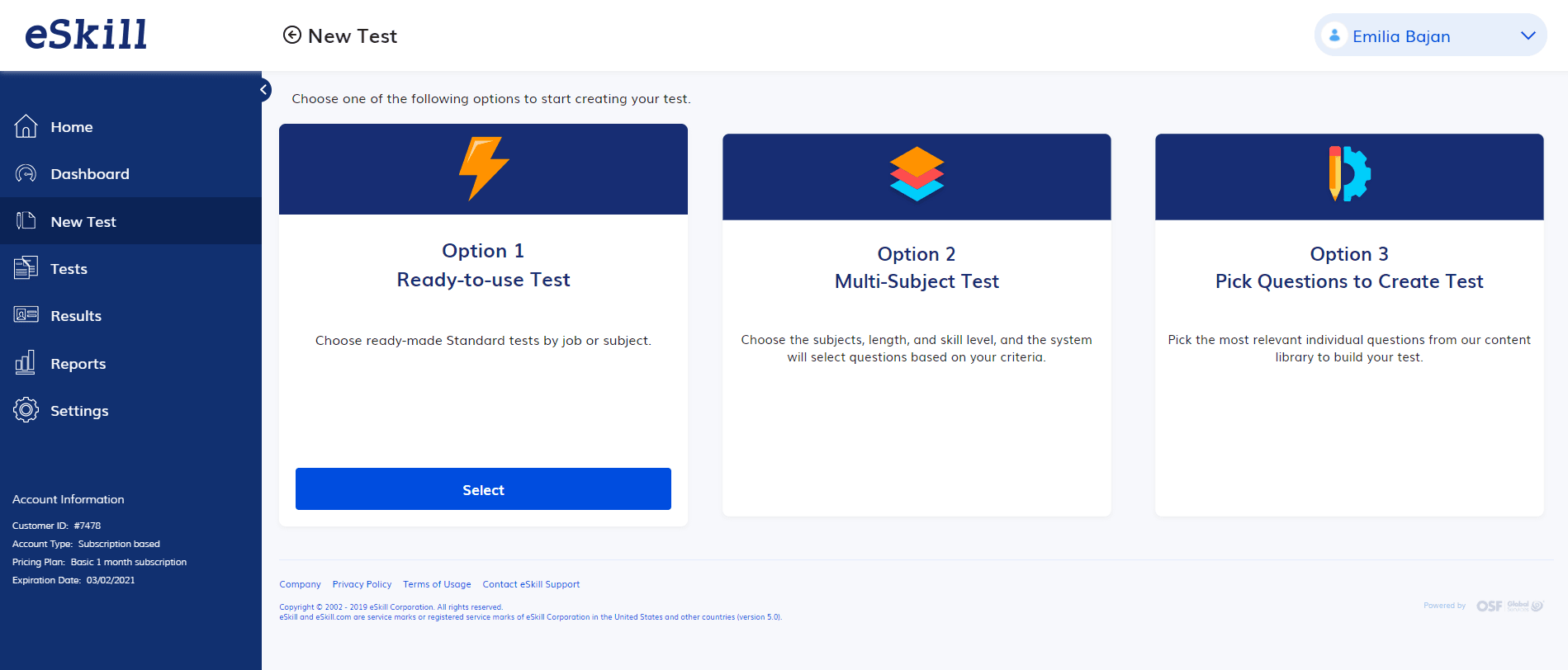 Image source: G2
Brief overview of the tool
eSkill is an online assessment platform that helps you test a large number of candidates in minimal time. It has several testing modules, including video interviews, and offers customization options, making eSkill suitable for different use cases.
However, eSkill could do a better job with its interface, as customers tend to complain it is not intuitive enough and the performance can be glitchy.
Features of the tool
Pre-employment assessments
Video response questions
Skill-based testing
Behavioral assessments
Cognitive aptitude tests
Options for further employee development
Brandability
Integration with iCIMS, Workday, UKG Pro, Jobvite etc.
Pros
Suitable for various use cases
Solid video interview options
Good customization options
Cons
Not the best interface
Some users report performance glitches
Pricing options
eSkill is a premium solution, and pricing is available only upon request.
Customer reviews and ratings
Besides the mentioned UI drawbacks and performance glitches, eSkill is generally well-received among users:
Capterra: 4.5/5
G2: 4.5/5
SoftwareAdvice: 4.5/5
Willo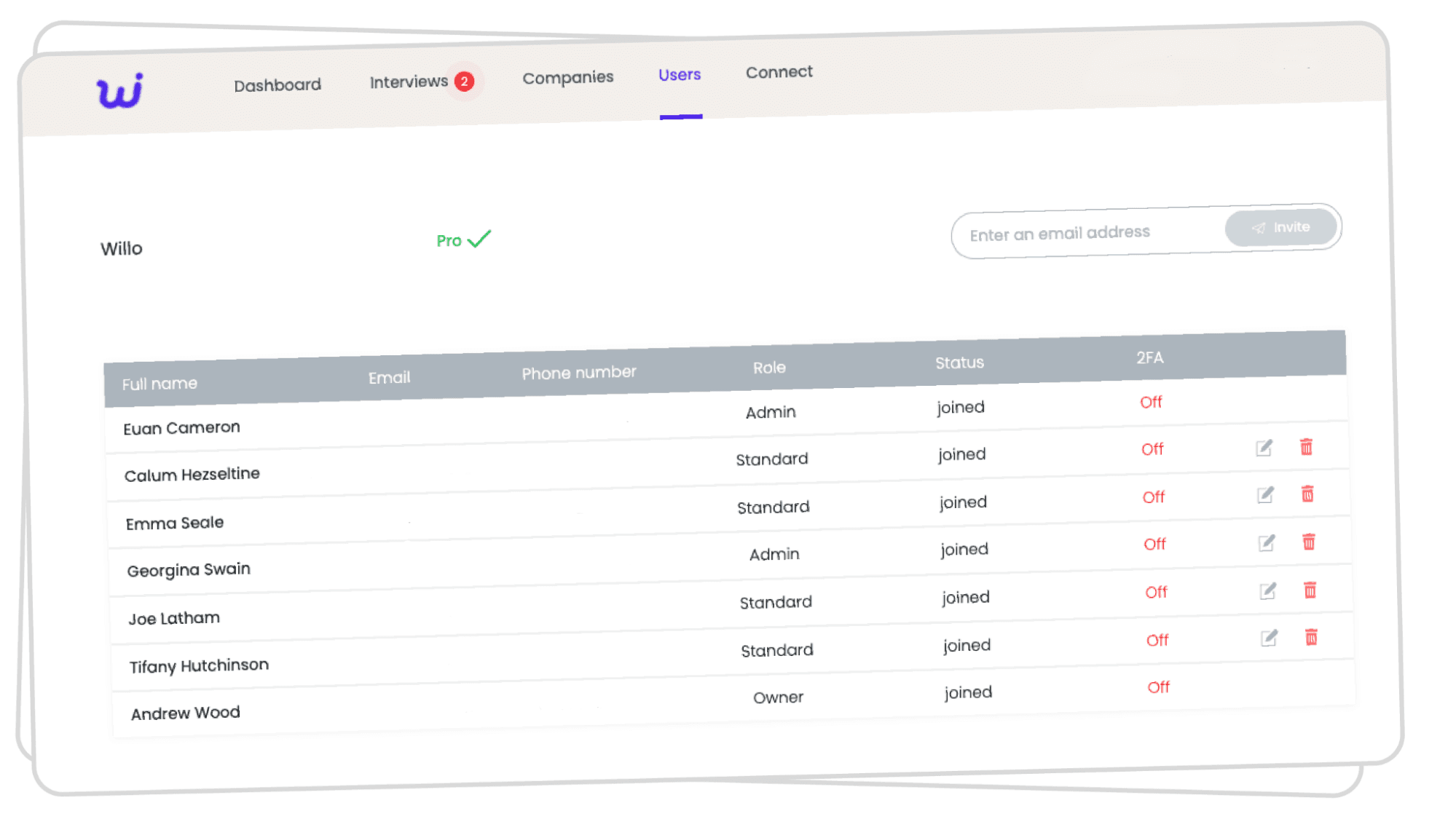 Image source: G2
Brief overview of the tool
Willo is a video interviewing and screening software. It enables your candidates to answer your questions while recording themselves, without you getting involved in the process, saving you time. It also has handy digital identity verification features, which help you scope the candidates further.
But, besides that, Willo lacks some of the more advanced features other tools on the list have, such as NLP processing, AI assistance and sending automated and detailed feedback to candidates.
Features of the tool
Brandability
Digital ID checks
2FA
Team collaboration capabilities
Invite at scale via CSV or SMS
5000+ integrations + API – Slack, Google Drive, Trello and more
File uploads
Social sharing
Pros
Digital identity right-to-work and criminal checks
Good asynchronous interviewing options
A large number of integrations
Cons
Lacks advanced features such as NLP processing and AI-powered interview analysis
Limited candidate feedback capabilities
Pricing options
Willo has transparent pricing and a cancel-at-any-time policy:
Starter: $75 per month – 200 responses per month, 100 SMS invite credits
Growth: $300 per month – 2000 responses per month, 500 SMS invite credits, premium support
Scale: $850 per month – custom responses, custom SMS invites, OpenAPI with webhooks
Customer reviews and ratings
Overall, Willo has a solid score on popular review websites, with the main complaints being about the pricing scheme based on the number of users, not team members:
Capterra: 4.7/5
G2: 4.8/5
GetApp: 4.7/5
Jobma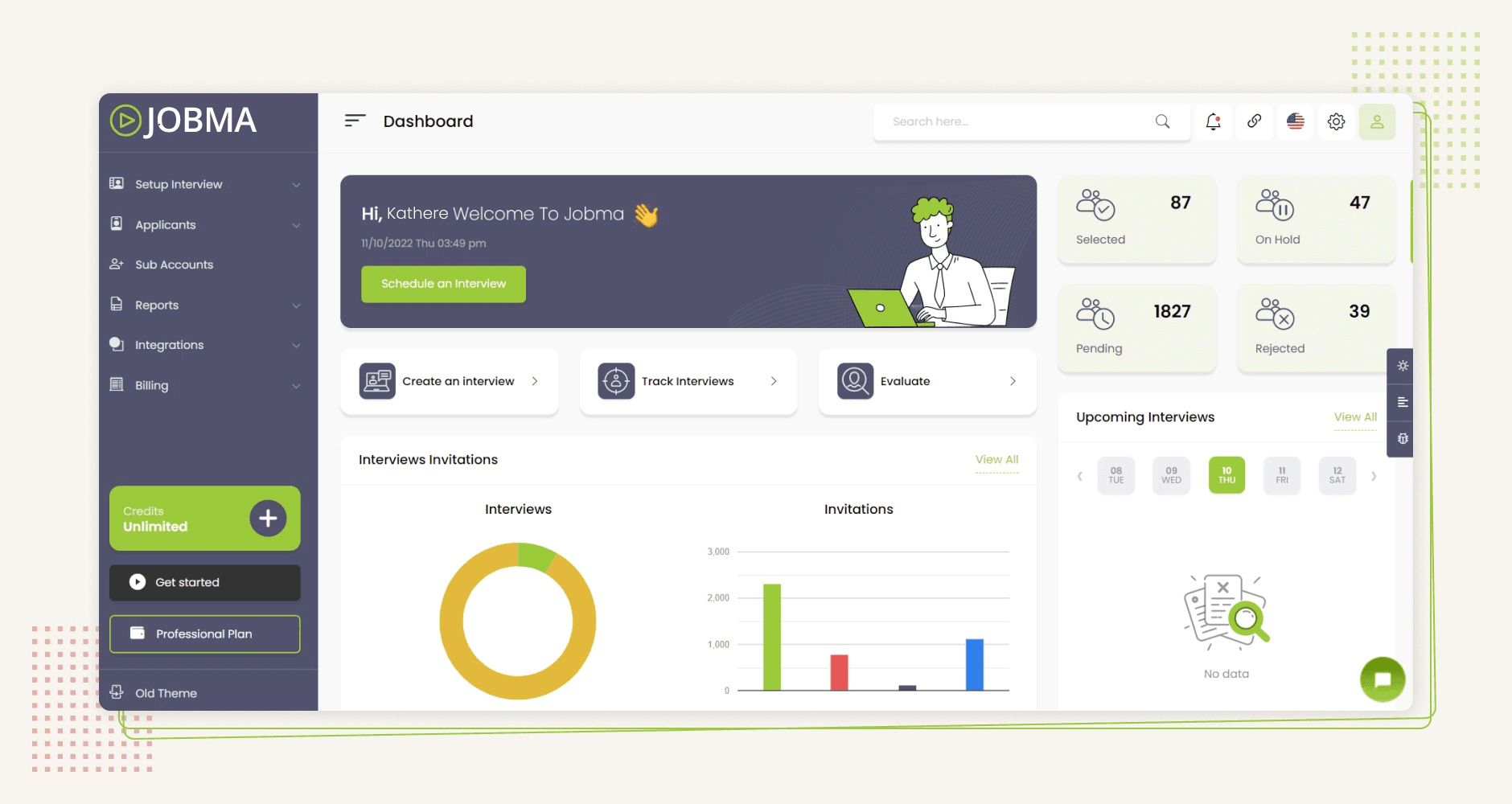 Image source: G2
Brief overview of the tool
Jobma is a video interviewing platform that allows you to conduct both live and one-way video interviews and written and audio assessments. It also has some decent collaboration features, as your entire HR team will be able to contribute to commenting and rating candidates.
While Jobma offers several ways to interview candidates, you still need to review everything and rate interviews manually. Also, outside video interviews, it falls behind iMocha regarding testing capabilities. Jobma lacks in AI, NLP and automation features competitors have, which would save you even more time.
Features of the tool
One-way video interviews
Live video interviews with recording
Multiple choice question testing and audio assessments
Automatic scheduling
Team collaboration and rating
Panel interviewing
Outlook and Google Calendar sync
Integration with Workable, BambooHR, Zoho Recruit, JazzHR, Greenhouse etc.
Pros
Several video interviewing methods
Written and audio interview support
Good team collaboration options
Cons
Testing options are limited compared to iMocha
You will still need to go through recording manually
Pricing options
Jobma pricing is available upon request.
Customer reviews and ratings
Jobma customers generally like the feature set, with complaints relating to somewhat limited customizability and occasionally clunky performance:
Capterra: 4.6/5
G2: 4.7/5
GetApp: 4.6/5
VidCruiter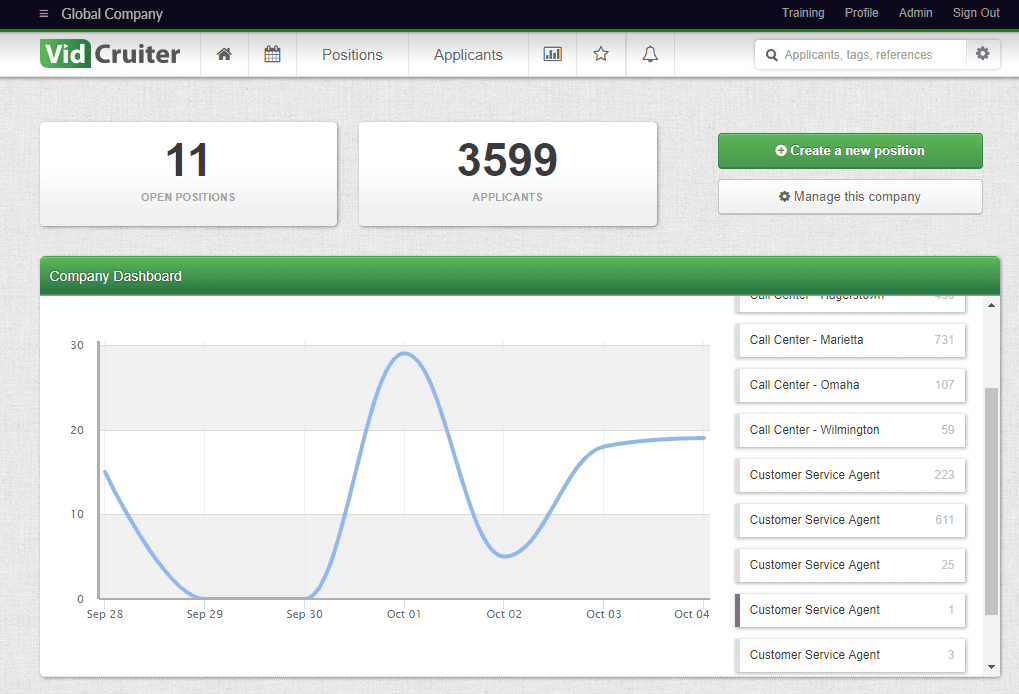 Image source: G2
Brief overview of the tool
VidCruiter assists businesses in finding and interviewing talent, assessing candidates' skills and conducting video interviews.
While it is a competent tool, VidCruiter takes time to get used to as it lacks user-friendliness, making the platform a bit too much for beginners.
Features of the tool
Skills testing and cognitive abilities assessment options
Pre-recorded interviews
Predictive validity
Automated candidate scoring
Live interviews
Auto scheduling
Plenty of integrations: Workday, SAP, PageUp, SmartRecruiters, Leer, Greenhouse, Salesforce, Workable and more
Pros
Testing, pre-recorded and live interviews
Automatic candidate rating
Great integrations
Cons
Pricing options
VidCruiter doesn't display pricing publicly.
Customer reviews and ratings
Apart from user-friendliness issues, VidCruiter customers are generally happy with the tool:
G2: 4.8/5
GetApp: 4.6/5
Capterra: 4.6/5
Breezy HR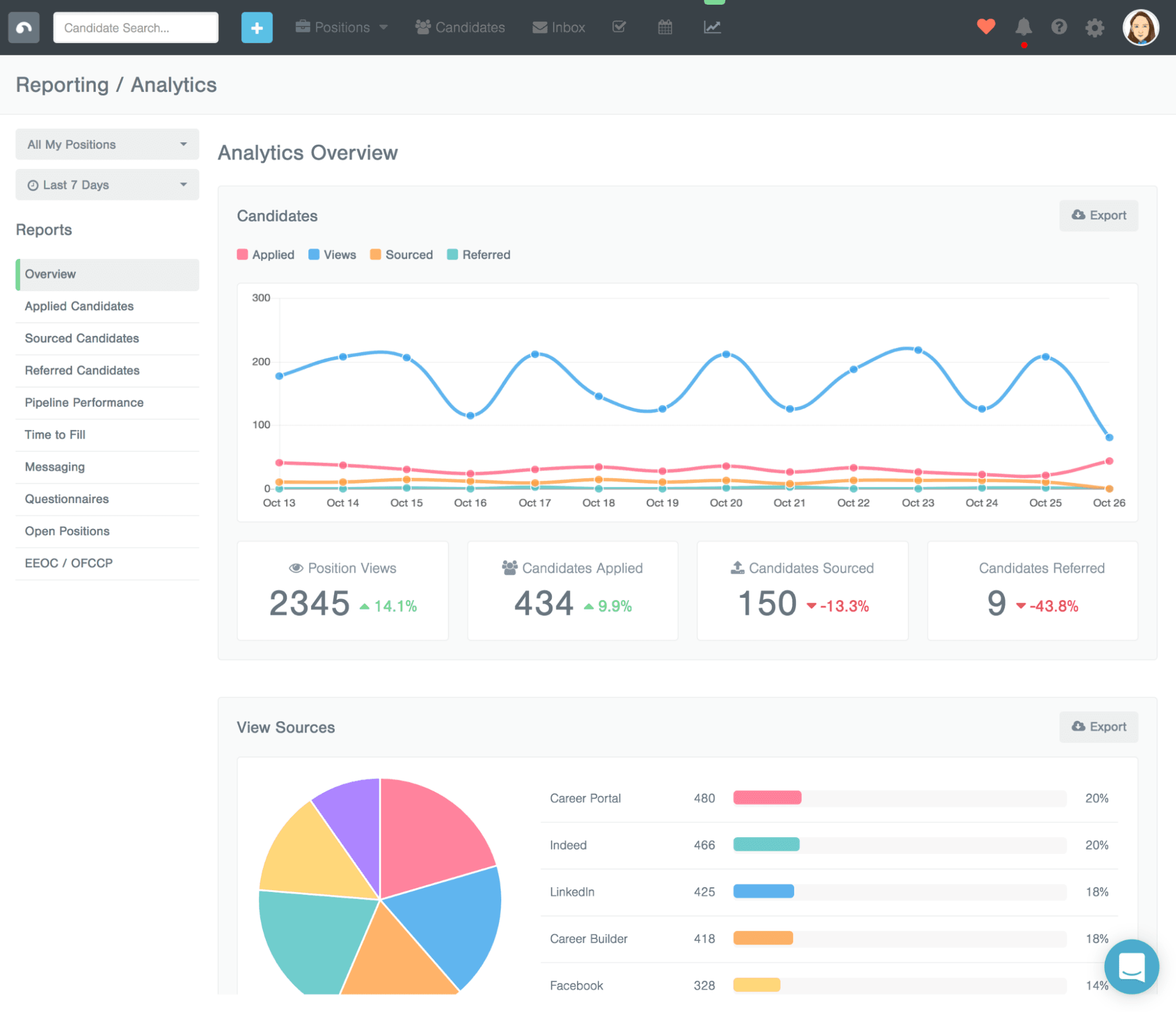 Image source: SoftwareAdvice
Brief overview of the tool
Breezy is an online assessment platform that allows you to control the entire process, from posting the job ad to testing and hiring candidates. It has a good amount of recruitment automation and an extensive feature set that will save you a lot of time if you can get over its clunky interface and often troublesome performance.
Features of the tool
Career site builder
Job boards advertisement
Diversity and inclusion features
Referrals
Collaborative hiring process
Candidate profiles
Custom pipelines
SMS and email candidate communication
Slack, Gusto, Indeed Checkr, Google and Office calendar and more integrations
Automated pre-screening
Calendar integrations
Pros
Career site builder with ads
Diversity and inclusion features for bias-free hiring
Site builder and advertisement
Cons
It takes a lot of time to get into such an extensive feature set
Pricing options
Breezy has public pricing and a free plan, which is nice to see:
Bootstrap: free – one open position or pool
Startup: $189 per month – unlimited candidates and positions, video assessments, live video meetings, background screening and candidate automation
Growth: $329 per month – all in Startup plus automated reference checking, referrals, multiple pipelines, and candidate comparison
Business: $529 per month – all features mentioned above plus multi-path questionnaires, candidate nurturing, HRIS integrations, job approvals and management
Customer reviews and ratings
Breezy HR can overwhelm customers with its complexity, but the feature set usually leaves a good impression:
G2: 4.4/5
GetApp: 4.5/5
Capterra: 4.5/5
Talview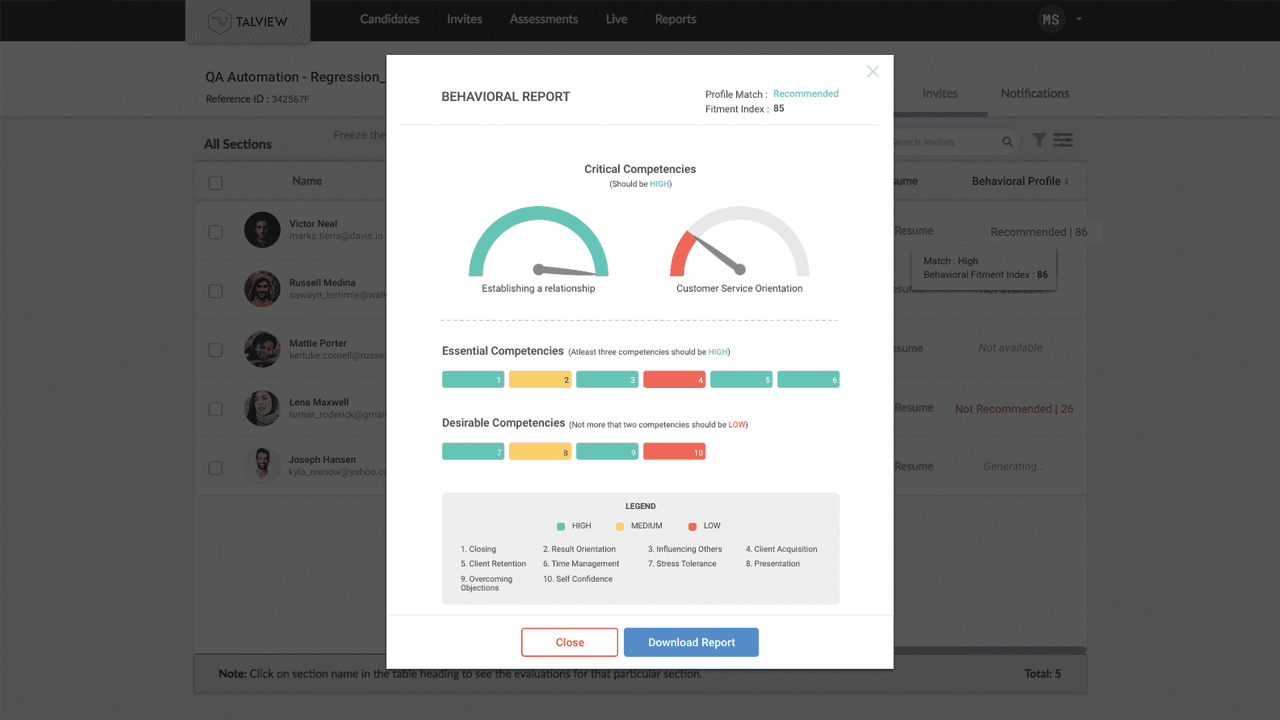 Image source: Talview
Brief overview of the tool
Talview is an AI-powered proctoring and hiring solution that will speed up the screening and hiring process and minimize the number of mistakes and missed opportunities. It has unique features for automatic remote proctoring, allowing you to prevent cheating.
While Talview has some great features, the performance is not always great, as customers report glitches and sometimes customer support issues.  
Features of the tool
Live interviews
Pre-recorded video interviews
Intelligent scheduling
Recruitment chatbot
Assessments and skills evaluation
Automated remote proctoring
Record and review
Proctoring comparison
Behavioral insights
Good coding assessments for grading coding skills
Talent exchange
Pros
AI-powered chatbot and scheduling
Automated proctoring
Several test options
Cons
Performance can be clunky
Customer support is not always responsive
Pricing options
You will need to contact Talview to get pricing information.
Customer reviews and ratings
Although there aren't too many reviews, Talview customers generally find the tool useful, apart from some performance and customer support complaints:
G2: 4.5/5
GetApp: 4.4/5
Capterra: 4.4/5
Hireflix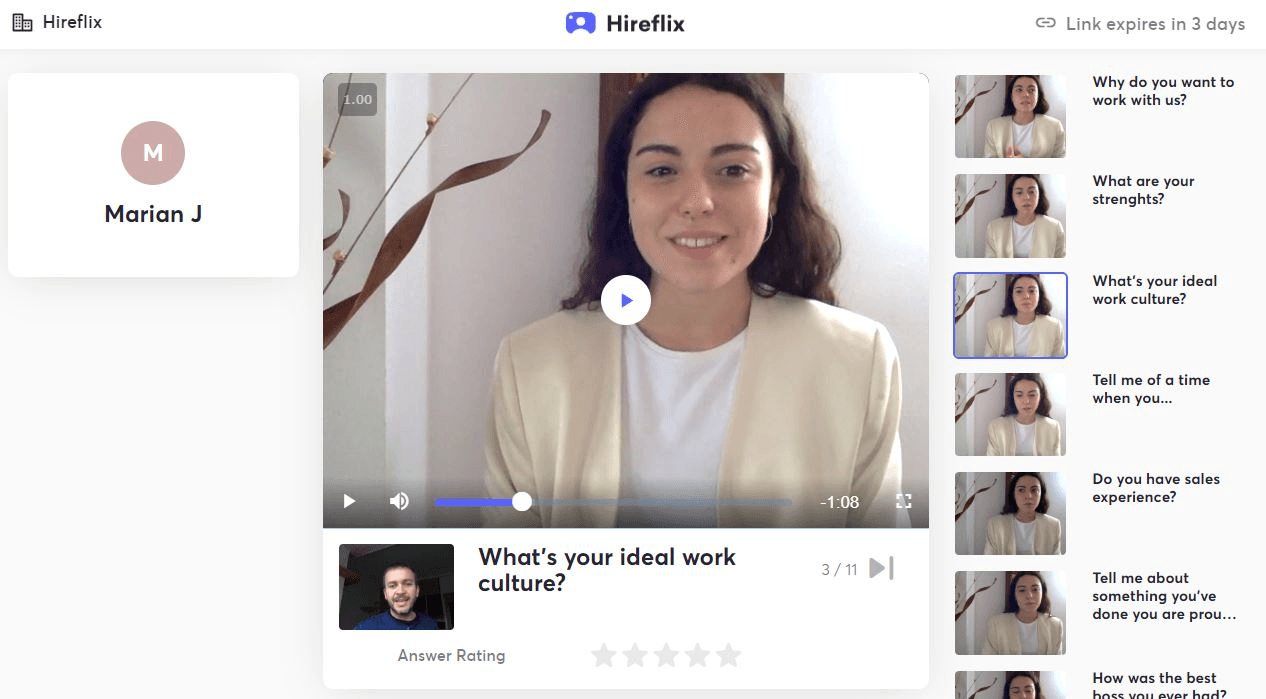 Image source: G2
Brief overview of the tool
Hireflix is a user-friendly asynchronous video interviewing solution. It saves you time by eliminating the need to schedule calls, allowing candidates and hiring managers to take and review the interviews at their convenience.
However, Hireflix lacks AI and automation features some other tools on this list have that would help you further cut the time it takes to go through the interviews. Also, candidate transparency could be improved, as you will have to give them details and results manually.
Features of the tool
One-way interviews
Video or text questions
Invite candidates at scale through CSV or individually
ATS integration, API support
Zapier custom integration with other popular tools
Share recordings with teammates
Team review
Pros
Simple to use
Team collaboration features
A good amount of integrations
Cons
Pricing options
Hireflix has three pricing tiers:
Small: $150 per month – up to 50 employees
Medium: $300 per month – 50-250 employees
Custom: available upon request
Customer reviews and ratings
Occasional customer complaints on Hireflix relate to rare performance glitches and inflexible pricing for smaller companies, but it has a stellar rating overall:
G2: 5.0/5
GetApp: 5.0/5
Capterra: 5.0/5
Workable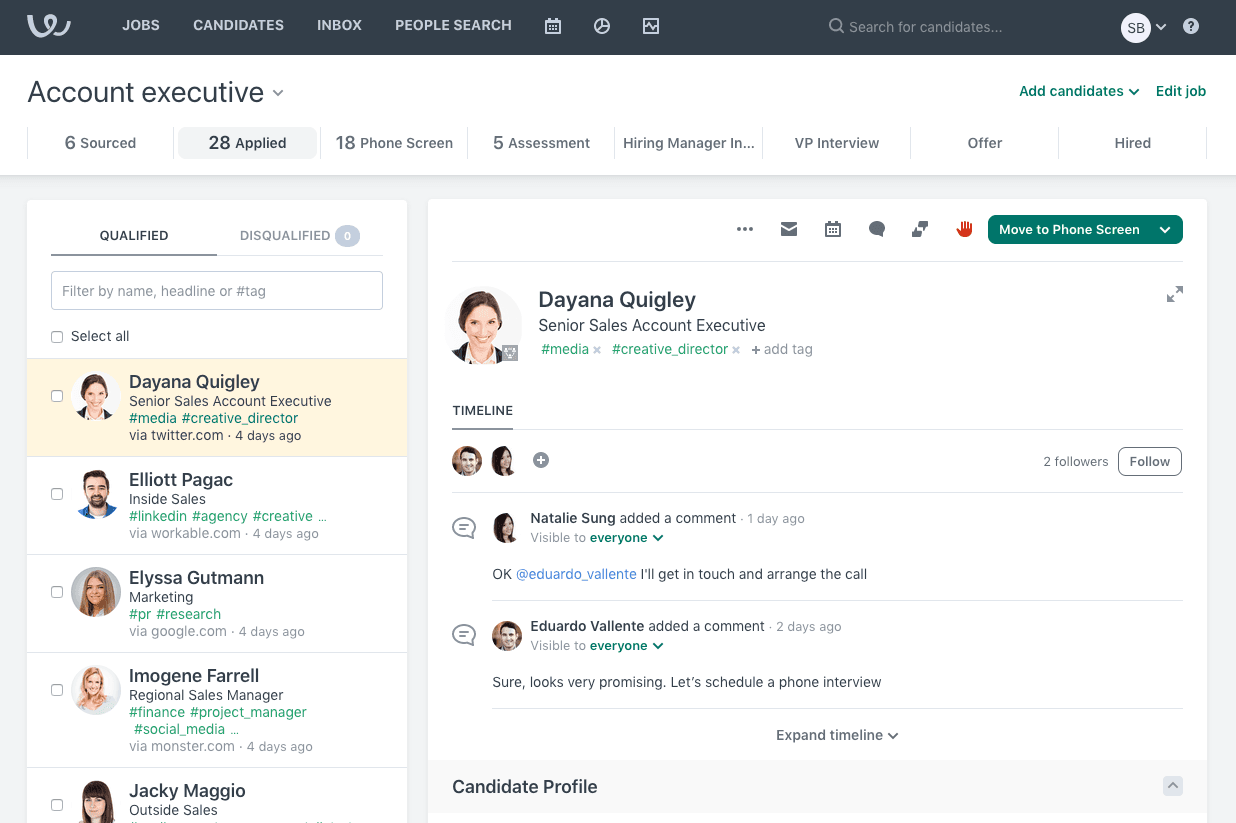 Image source: PCMag
Brief overview of the tool
Workable is a full hiring suite that can take over all HR activities, from job posting through evaluation and hiring and all the way to onboarding. It is a very capable platform, but, as such, it predominantly focuses on larger businesses that need all of its features.
Features of the tool
AI sourcing and candidate attraction
Structured interviews
Anonymized screening
One-way video interviews
Bias-free evaluation
Repetitive task automation
Onboarding
200+ integrations with job boards and social media sites, email and calendar integrations + integrations with thousands of apps through Zapier
Pros
A do-it-all all HR platform
Great automation features
Onboarding supported
Cons
Workable is an entire ecosystem of its own, and if you don't need all of its features, you may find it overwhelming
Pricing options
Here are Workable plans:
Starter: $149 per month – up to 2 active jobs, 200 AI sourcing views
Standard: $360 per month – unlimited jobs, 1k AI sourcing views
Premier: $599 per month – unlimited jobs, 20k AI sourcing views, five languages, SSO, custom onboarding
Customer reviews and ratings
Most Workable customer reviews are positive, with complaints regarding occasional performance drops and the user interface being a bit confusing:
G2: 4.6/5
GetApp: 4.4/5
Capterra: 4.4/5
iMocha alternatives: Comparison table
| Tool name | Overview | Pros | Cons | Average user rating |
| --- | --- | --- | --- | --- |
| iMocha | Candidate testing platform with an extensive database | Many test options Customizable Speed because of auto marking | Automatic marking occasionally makes mistakes UI not intuitive You should double-check tests for errors | 4.53 |
| VireUp | An AI-powered one-way video interviewing platform | Bias-free Transparent NLP-based interview commentary speeds up the process | A new name on the market, so not many user reviews | Still new, so no reviews |
| TestGorilla | A testing platform with a rich test library | A good amount of technical tests and cognitive assessments Great for assessing developers Good analytics | Video interviewing limited Lacks feedback options | 4.23/5 |
| eSkill | An online assessment platform for candidate testing at scale | Very flexible Good video interview features Customizable | Not very intuitive Performance can be slow | 4.5/5 |
| Willo | Video interviewing and screening HR tool for asynchronous hiring | Candidate checks Good one-way interview features Many integrations | No NLP and AI features Limited candidate feedback | 4.73/5 |
| Jobma | A video interviewing software with several modes | One-way or live video interviews Written and audio tests Team collaboration options | Lacks AI and automation features | 4.63/5 |
| VidCruiter | Cognitive and technical skill testing and video interviewing platform | Several interview options Intelligent candidate rating Many integrations | Complex Lacks feedback options | 4.66/5 |
| Breezy HR | A full-service HR software | Site builder with ads Several automation features Bias-free hiring | Very complex and takes time to get into | 4.43/5 |
| Talview | An AI-powered testing and proctoring tool | Excellent online proctoring features AI chatbot A good amount of tests | Performance can be slow | 4.43/5 |
| Hireflix | A simple one-way video interviewing platform | Easy to get into Good collaboration options Several integrations | No AI automation Subpar candidate feedback options | 5/5 |
| Workable | A full-suite HR platform | AI sourcing and recommendations Anonymized and bias-free screening Onboarding features | Complex, suitable only for larger organizations that need all of its features | 4.46/5 |
How we selected the top 10 iMocha competitors
Here's what we were looking for when selecting iMocha competitors:
Features – iMocha does a great job when it comes to testing candidates and templates, but we wanted to focus on other features as well, especially video interviewing.
Ease-of-use – any of the iMocha alternatives you choose should be simple for both the recruiter and the candidate.
Performance – having many features is nice, but it isn't very helpful if the performance can't support it.
Integrations – it's nice to see that the hiring platform can work with other tools you already use.
User reviews – customer reviews will uncover how the platform performs when put into action.
Pricing – unfortunately, most tools don't have transparent pricing, but it is still a significant factor.
Conclusion
As you can see, iMocha has fierce competition, and there are plenty of good HR tools you should consider as its replacement.
VireUp's innovative NLP-powered suggestive algorithm will help you go through the recordings at speed without missing anything important. This, combined with bias-free screening and transparent feedback, will simplify your hiring process and cut costs, making VireUp a great iMocha alternative.
Try VireUp now, and see for yourself why prominent brands such as Coca-Cola and METRO rely on VireUp as the cornerstone of their hiring process.
FAQ
What is the iMocha assessment test?
iMocha offers different test templates to help you build a custom assessment and test candidate skills. Templates such as motivation tests, situational judgment tests and basic aptitude tests are especially popular for assessing a candidate's cognitive ability, but there are technical assessments and coding tests, too.
How does iMocha work?
iMocha is a premium skills intelligence and talent acquisition platform that allows you to pick a template, edit tests,  create your tests and run interviews, all of which will help you screen candidates at scale. It also has a free trial.